Removing Rooster Spurs
My Homesteading adventures all started with the chicken!  I was looking for a natural way to reduce the mice in our farmhouse when I came across a chicken that hunted mice and snakes.  It was the Buckeye chicken.  After months of looking I finally found a local rooster that was two years old and I was able to buy him for $50. $50 is a lot to pay for a two-year-old rooster, however he was purebred and came from well known bloodlines and I had great plans for him.
This post contains affiliate links.  By purchasing items through these links, I may make a small commission, at no additional cost to you.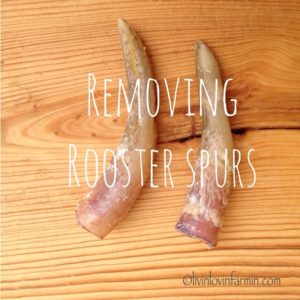 The Rooster
Since my original Buckeye rooster, I have hatched out dozen, dare I say hundreds, of other buckeye chickens on the farm.  Their beautiful reddish brown plumage and docile personalities make this Heritage chicken my favorite breed. My current Alpha Roo is named "Buck"  (actually all my alpha roos have been named buck)  he is three years old and he is the king of the farm. When the sun comes up each morning he gives his dinosaur-like cock-a-doodle-doo, to announce it's time to start work . It also means it's time to start mating! And mating he does. He is not rough with his ladies, however due to his length of Spurs, the hens backs are now naked and some of them are starting to bleed. This opens up for a slur of problems.
Bald Hens
Bald hens are now not only susceptible to easily sunburning with the absence of  feather, buts they are also susceptible to infection if their backs get cut open and fly's get to the open wounds. Because of this, I am going to remove Bucks spurs.  Because Buck is such a nice rooster on the farm and he's a good rooster for continued breeding program, I would rather remove his spurs then to butcher him…. Now before anybody gets all upset about removing the Spurs of a chicken, it is no different then tagging your cows ears or branding them or neutering your cat or dog.  It is part of Farm life!   I am certain Buck would rather have his spurs removed with a little bit of pain and blood versus getting his head cut off and going in my stew pot.
How To Remove Rooster Spurs
I have made a quick video of me removing the Spurs. It is quick and easy and for the most part painless,  however, I will say that is not for the faint of heart so if you don't like seeing blood even if it's a drop or two do not watch the video and do not post a negative comment regarding the video. Before anybody posts a negative comment this is my disclaimer.. THERE IS BLOOD!. Not much, but it is there, so if your afraid of a few drops of the red stuff do not watch.  Thank you.


The first thing you need to remove the Spurs is to collect your instruments.
Supplies
Here is what you'll need;
A clean pair of pliers
some antiseptic spray such as bluecoat or iodine
Blood stop or cornstarch and Cayenne pepper.
Two baked potatoes
And a couple paper towels
After you have gathered all your supplies, place your potatoes in the microwave for five minutes or until soft like a baked potato.
Once your potatoes already,  wrap them in foil to keep them hot while you go fetch the chosen rooster.
Poke the spur through the baked potato and hold it there for 2 to 5 minutes. I found the two minutes is adequate
Using your pliers carefully twist back and forth, about a half to quarter inch away from the leg, until the spur comes loose.
Slide off the spur
The spur will literally slide off and you will notice some bleeding start.  Spray with the iodine and immediately place the spur into a baggie of blood stop or cornstarch cayenne pepper mixture. (3 tablespoons corn starch, 1 tablespoon cayenne pepper)  And hold it there for 2 to 5 minutes until the bleeding stops. Repeat with the other spur. Once the bleeding has stopped on both spurs,  you can either let your rooster go for a couple hours to give him a break or spray him down with some more Blu-Kote or iodine if you don't think you'll be able to catch him again later in the day, this will help keep  the bacteria at bay.  Don't be alarmed if you do see a couple spots of blood in the coop for the next couple days, this is completely normal, however, at nighttime I do highly recommend you grab him  off the perch and spray him with some Bluecoat and do this nightly for about a week.
Don't forget to subscribe to my Youtube channel
During the next week I will increase his protein levels to about 25 % to help with any blood loss.  Chickens love meat so I will give him so ground burger or leftover steak bites.
NOTE.. I highly recommend using Blu-kote on chicken wounds as they are attracted to the color red.  Using this blue antiseptic spray  will keep them from picking at it as well as keeping the wound free of bacteria and flies.
Livin Lovin Farmin is a participant in the Amazon Services LLC Associates Program, an affiliate advertising program designed to provide a means for sites to earn advertising fees by advertising and linking to Amazon.com.