Before I took on my big adventure with Jersey cows, I started with two Nubian dairy goats. The Nubian goats is one of  the highest producers of butterfat at 4.61%. Despite goats having a bad reputation for being mischievous and adventurous little monsters that get into everything and eat parts off cars, my ladies were a wonderful part of the farm.  Not only were they content in their fenced area but they also lead exceptionally well with a halter and rope.
Obvisiuosly goats don't produce as much milk as a dairy cow, however they are perfect for a small family that doesn't want more than a gallon of milk per day. Goat milk also makes fantastic cheese including mozzarella, chèvre and ricotta. Our household spent an entire two years eating and drinking nothing but goat milk and cheese.  I used my homemade cheese in virtually every dish, from lasagnas to ricotta pancakes to Capresse salads. And afterwhile the "goat" smell and flavor easily adapted into my cooking style. It wasn't until I decided to go back to college that I sent the goats off to a new home. Now that I am full-time farm girl, I am lucky enough to have two beautiful dairy cows.  Both are registered Jerseys. Jersey girl and Marley. Marley is currently given me 2 gallons of raw milk a day, which is plenty for my family and several other families that buy milk from me weekly, with enough leftover so I  can continue my obsession with homemade cheese.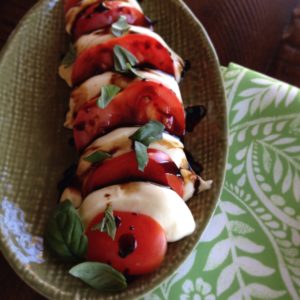 Over the 12 years that I have been making cheese, I have collected more cheese books then I care to count and I have tried dozens of cheese recipes. But for making a quick mozzarella, there is only one that I find acceptable. It is from Ricki Caroll's Home Cheesemaking.  Ricki also has a fantastic website called new England Cheesemaking (cheesemaking.com) and you can order all your cultures books and tools you need to excel in cheese making.
This recipe is adapted from her 30 minute mozzarella recipe and it is just that.  In 30 minutes, start to finish, you got yourself some delicious easy homemade mozzarella.  My favorite thing about making mozzarella is, not only do you get to make almost 1 pound of fresh real cheese but, by using the leftover whey, you can also make 1 pound of creamy delicious ricotta.  Its like the gift that keeps on giving.  I like to double my mozzarella recipe, that way I have one fresh, to eat while its still hot and one to pop in the freezer for easy grating later.  Plus that will give me the  2 gallons needed of whey to make the ricotta.
I prefer fresh raw milk, however, you can use store bought milk for this recipe, just make sure its not Ultrapasturized.
Homemade Mozzarella and Ricotta
Ingredients
1 Gallon unskimmed milk, I use RAW
¼ teaspoon Lipase. Diluted into ¼ cup cool water. Allow this to sit 20 minutes prior to starting.
1½ teaspoon citric acid. Diluted into ½ cup cool water
½ teaspoon Liquid rennet. Diluted into ¼ cup cool water
Optional,
Salt and herbs
Instructions
Dilute Citric Acid into ¼ cup cool water. Allow this to sit 20 minutes.
In a large kettle add citric acid to bottom of the pot. Add milk and slowly heat to 55 degrees.
Add diluted Lipase. Continue to heat milk to 88 degrees. Stirring frequently.
While stirring constantly, add diluted Rennet. Still for only 30 seconds. Remove from heat and allow to sit, untouched for 5 minutes.
Check the curd. It should have a clear separation between curd and whey (see image). If the whey is milking, allow it to sit for a few more minutes.
Cut the curd with a long knife that reaches the bottom of the pot. Make small 1inch slices. (see image).
Return to the burner and heat the curds and whey to 105 degrees, gently stirring the curds around the pot.
Remove from the heat and continue to softly still for 3 minutes.
Using a slotted spoon, remove the curds and place them into a heat proof bowl. Reserve the whey.
In the microwave, heat for 60 seconds.
Carefully remove bowl from the microwave. Pour excess whey back into kettle. Add a pinch or two of salt or herbs now if desired. (highly recommended)
Using a wooden spoon "knead" the cheese to distribute the heat.
Return to the microwave and heat for 35 seconds. Stretch the curd as you would taffy. This is HOT. Repeat twice, pouring off excessive whey each time.
When the cheese is smooth and shiny its ready. Roll into a ball, drizzle with olive oil and eat while its warm or cover and refrigerate.
I like to double my batches and freeze it for grating.
Of course the day wouldn't be complete with out busting out some deliciously smooth Ricotta made with the whey from the mozzarella.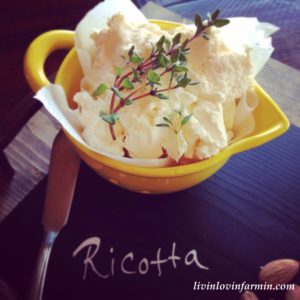 RICOTTA
2 gallons fresh Whey. (not older then 3 hours)
1 quart whole milk
1/4 cup Apple Cider Vinegar (ACV)
Heat the whey and milk to 200 degrees. Stirring often.  Turn off heat and while stirring add in the Apple Cider Vinegar.  Let the whey/
ACV mixture sit untouched for 15 minutes.   Line a colander with a flour sac or THIS cheese bag and carefully pour in the mixture, reserving the whey again. **see note.    Careful  THIS WILL BE HOT!  Tie up the bag to a cabinet knob and over a large bowl, allow the ricotta to drip overnight.    In the morning plate the delish ricotta.  Store in the refrigerator for up to 5 days.
TIP… Don't expect your first time making cheese to come out like fancy, wood-aged artisan cheese, because it won't.  But it will be delicious, fun and a gateway into other cheese making.
TIP.. Add in some delicious fresh herbs such as basil and herbs de Provence in the first stretch cycle.
NOTE… Save the whey after making the ricotta.  This protein packed liquid is an excellent milk substitute in baking.  It can also be used as inoculant in fermenting,  use it as a starter to make sauerkraut and also fermenting chicken feed.  It also freezes exceptionally well.

Get your cultures here… Remember, a little goes a LONG way!

 
or this..