The farmstead is pleased to once again be raising meat chickens.   This year we are offering both, Cornish Cross and Freedom rangers.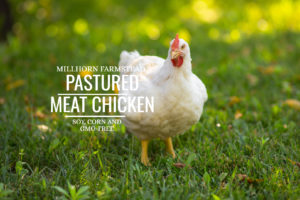 Cornish cross are a heavy bird with succulent white meat.  The Cornish is a mixed breed of a White Cornish rooster and a Plymouth White Rock hen.  Because Cornish's grow quickly they stay moist and tender.
*SOY FREE   *CORN FREE  *GMO FREE   *CAGE FREE   *STEROID AND ANTIBIOTIC FREE
Meat chickens are sold by the pound $5.00lb.  A $10.00 deposit is required PER CHICKEN.  Chickens must be picked up at the farm or during a scheduled delivery. All processed chickens come weighed and shrink wrapped. Innards and feet avail upon request.  
FARMSTEAD PASTURED CHICKENS ARE LIMITED SUPPLY.  RESERVE YOURS TODAY.