Notes From The Pasture – A Farm Update
As the snow slowly melts and the long awaited anticipation of spring begins, we've been busy planning summer paddocks for the pigs to roam and the cattle to graze.  This has been a hard winter no doubt.  We lost several animals and felt Mother natures presence more than most years. Her pressure to defeat, was second to none.  But at last, spring may be lurking and that is where we are focused.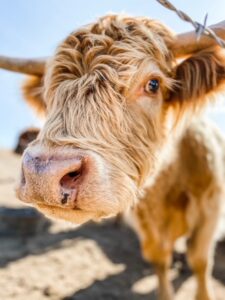 Calving season will begin before we know it and then lambs and piglets will start to grace our farm once again. There is nothing better than new life on the farm. This year we will be welcoming a new Dorper Ram, as our ram didn't make it through winter.  Heath is him name and hes a gorgeous is his game. Once he gets settled, he will be pasture king to 20 Dorper ewes. Thats 20+ future little prancing lambs, my kids favorite animal.
Last year we were really focused on selling individual cuts of meat and delivering locally, with the hopes of shipping meat one day as well.  While we will still partner with a few local farms, we will no longer offer meat sold by the pound.  Because of federal & state guidelines, I have to use a USDA processor to make this business endeavor work.  However,  I have yet to find a USDA butcher that meets my standards. I am incredibly picky about how our animals are slaughtered and processed and for good reason.  Here at the farm, we work really, really hard to raise animals properly, ethically and humanely with the very best nutrition available.  This process, needs to hold true until the meat graces your families plates and nourishes your bodies. Meat – beef, lamb and pork will be sold only by the half or whole.  More info here.
Eggs are back.  Yes, even our chickens took a longer than normal break this year. NO, we do not feed commercial feed.  Every animal on the farm gets a custom, locally milled grain.  We had rotten weather, naughty bald eagles and dark foggy days.  All bad things for egg production.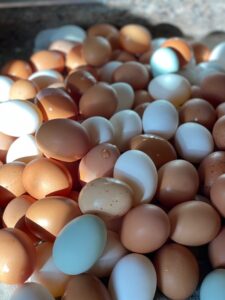 After 20 years of raising meat chickens, I have decided to take a break this year.  We will not be offering any meat chickens or turkeys for 2023.  While I am feeling sad about this and honestly, pretty guilty, I will refer y'all to an amazing local farm that offers the same animal husbandry and feed as we do.
We are welcoming three new A2A2 milk cows on the farm this spring.  This will increase our milk production and hopefully keep store shelves stocked for longer.  We will continue to supply Pilgrims Market in CDA with farm fresh Raw milk, cream, butter and eggs. Delivery is Tuesdays and Friday.
Lastly, if you have been following me for a while you know about my Sharee girl.  Sharee was our family milk cow for the past 10 years.  She was larger than life cow, with a bossy, yet lovey personality.  Sharee was a fantasic mother and a dream to milk.  Sadly at 15 years old, it was Sharee's time to graze Gods great green pastures.  She will forever set the bar for the idealistic family milk cow.  Rest easy sweet girl.