We have had lots of anticipation over the name of one of our beautiful bull calves.  He was born on March 8th to Jersey cow Delilah and our Scottish Highlander Bull, Norman.  Delilah is a 2th generation milker on our farm.  You may remember the saga with her mama, Daisy.  Daisy was my favorite milk cow who died after a long battle died with late-lactation milk fever. (yes, that's a real thing)  It was horrendous.  You can read my post here..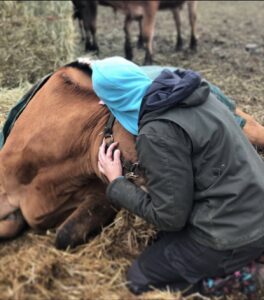 As you know, I love my milk cows deeply. Not only are they are huge part of our homestead but of our family.  I spend 12 hours a day with my girls and love them like no other.  After Daisy's death, Delilah has moved into her mothers head stall.  Delilahs first born, Daphne, will be milking right beside her next spring.  Naturally, with the amazing blood lines of these cows, I was disappointed that this calf was a bull.  But alas.. you cant win them all.
So what did we name him?  Well after over 3000 suggestions, yes, I said 3K and 80K impressions, (you can read all of them here)  we have chosen the name…
The suggestions ranged from Delman, combo of Delihah and Norman, Danny, Dooley, Dandy, Dillion, Duke, Duncan and about 3000 more. We LOVE reading your suggestions!  Thank you for being part of our farm family and helping to name this little bugger.  His grand-dam would be quite proud.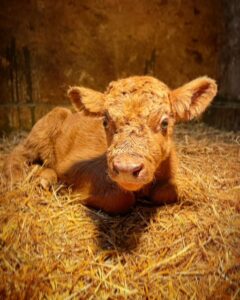 Ok  Ok  Enough already.  Please meet Dexter. Isn't he the cutest!
Thank you everyone who chimed in on his and all the calves names.  We have three more Highland heifers to calve this spring, then we will begin with piglets and then dairy calves by June.  Spring has Spring.
Welcome to the herd Baby Dexter!
Want to help name the next calf?  Follow along on our instragram
Read more homesteading posts..