Spatchcock Chicken
I don't care who you are, the word 'spatchcock chicken' is fun to say.  You can call it butterflied chicken I guess, if you prefer, it's really all the same.  What's really special about this chicken is how fast it cooks.  Not only does spatchcocking it reduce cooking time to a fraction but it also makes it incredibly juicy.   Spatchcock is really a fancy word for cut in half and laid flat.
By doing this you, the bird cooks more evenly at a reduced time.  You can also do this with pheasant, quail or even a turkey. Order your pastured, gmo free, chicken HERE.
This post contains affiliate links.  By purchasing through these links, I may make a small commission at no extra cost to you. 
Preparing The Chicken
Preheat Traeger to 350°   For Poultry I prefer to use a mesquit or a fruit tree (apple) wood pellet.
To spatchcock your whole chicken, simply lay it breast side down.  With a sharp pair of kitchen shears (I have used a giant knife in a pinch ) cut to the side of the tailbone, all the way up to the neck.  Repeat with the other side of the tailbone. You are basically cutting out the back bone of the bird.  There's a lot of nutrients in that back bone, therefore, set the back bone aside, as it is great for making homemade bone broth.
Rub That Bird
Once your backbone is removed,  firmly press on the side of birds back/wing area until it cracks and the bird is now laying perfectly flat. Flip the bird over and lay it breast side up. Massage olive or avocado oil thoroughly onto the skin.  Be sure to get under the wings and around the legs.  Generously sprinkle spices on top of the oil covered bird.   I prefer to simple use just pepper, Johnny's seasoning and some fresh chopped thyme.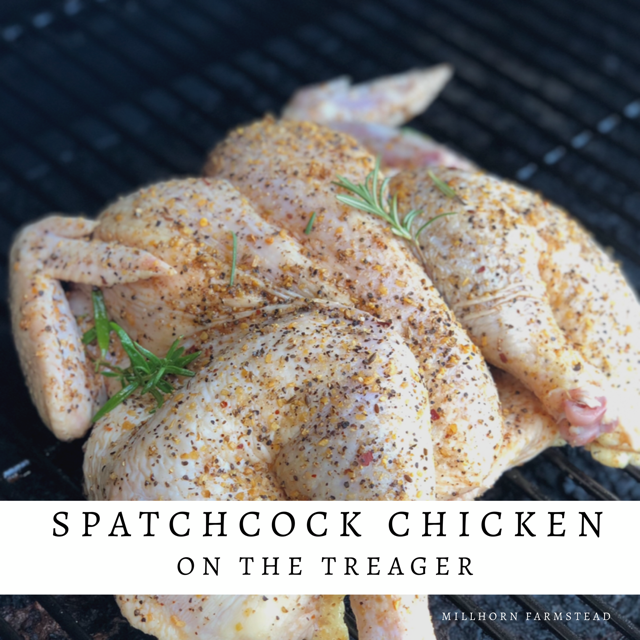 In a pinch, I also use a delicious poultry seasoning that I picked up at a Amish store in Virginia.
Repeat with the back side of the bird.
On the Treager, lay the bird skin side down for 30 minutes, this will give a good sear.  After 30 minutes flip the bird over and continue to cook for remaining 2 hours or until the chicken reaches 165° or the legs easily pull/fall off.
This chicken is delicious with homemade coleslaw or some smoked cheesy chard chips.
I have lots of customers that are not sure how to cook a whole chicken.  Spatchcocking it is the answer if cutting up a whole chicken isn't for you.  This method is so good and so fast, that I typically cook two at a time.  One for dinner, one for lunch meat.
https://millhornfarmstead.com/homemade-poultry-feed-soy-free/
Order your pastured chickens today.  Don't know how many to order?  The average family will go consume 30-50 chickens a year.