I crave huckleberries,  Seriously.  I love them.  However this coveted, plump, berry is only seasonal and found in the mountains of the beautiful Pacific Northwest.  So running to Costco for huckleberries is out of the question. Earlier this summer, while on a family vacation on the beautiful St. Joe River, my husband and I loaded up the kids and decided to go huckleberry picking. I  packed a lunch, some buckets for the goods, and of course, our fishing poles and a few beers just in case our pickings went south, which they did.  After hunting for over 2 hours, we came home with only 1/2 cup of fresh, wild huckleberries, which were quickly stuffed into the mouths of my 3 lil campers.    Thankfully a friend  of mine and her daughters were more successful then we were and I was able to buy 2 gallons from her, which I quickly hid in the freezer and still haven't told the kids about!  Yes, I'm a closet huckleberry hoarder  and darn proud of it.
I decided to make a quick  freezable preserve with some of the huckleberries.  Its excellent on top of pancakes, toast or fruit  or .. say some Vanilla Bean Panna Cotta.  The best part of this recipe is it truly takes less then 15 minutes to make. Because the cooking time is so minimal and there is no heat processing, the integrity of the huckleberries stays true and is not masked by a bunch of sugar.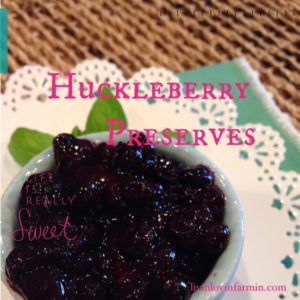 Quick Huckleberry Preserves
Ingredients
2½ cups fresh or frozen huckleberries
1 teaspoon bottled lemon juice
½ cup honey
1 Tablespoon pectin
Instructions
Using a electric mixer, beat honey and pectin until creamy. Set aside
In a small pot, over medium heat, heat huckleberries, lemon juice and honey/pectin mixture until just a soft boil.
Turn off heat and carefully ladle into 3½ pint jars. Allow the preserves to cool prior to placing the lids on,. Store in the freezer or refrigerator.
Be sure to leave at least a 1 inch head-space if your planning on freezing the preserves.
This sweet jam is excellent to add on top of some Deliciously fresh homemade Vanilla Bean Panna Cotta.
If your not a honey fan, you can substitute the honey for some organic sugar.
Fun tip… Store your Huckleberry preserves in THESE fun jars and add to a gift basket!. This is an exceptionally fun gift for those who are from out of town and have never tasted the beautiful berry before!
Check out livinlovinfarmin.com featured posts..