Holy yum!  You will thank me, I promise!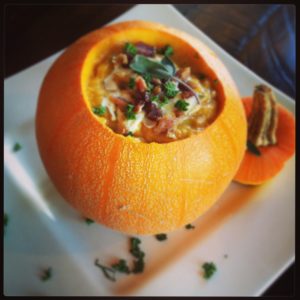 Roasted pumpkin soup with garlic sage butter
1 small-medium pie pumpkin, seeded, peeled and cubed into 1inch pieces
or
2 quarts canned cubed pumpkin (this link)
½ cup bacon, cooked, diced and fat saved
4 cups organic chicken stock
1-2 cups coconut milk
1 medium onion, chopped
3 cloves garlic, minced
2 large carrots, diced
2 stalks of celery, diced
½ a fennel bulb, chopped
Salt and pepper to taste
*Garlic sage butter
3 tablespoons grass fed butter, melted
3 cloves of garlic, minced
½ tablespoon sage, chopped
½ tablespoon parsley, chopped
1/2 teaspoon of each Salt and pepper
*Combine butter, garlic and spices until thoroughly mixed. Set aside.
Preheat oven to 400.  On a foil lined baking sheet spread out cubed pumpkin, drizzle with garlic sage butter.  Bake for 45 minutes or until soft and golden.  Stirring half way through.
While your pumpkin is roasting, cook bacon in a cast iron pot, such as a Le Creuset, just until crisp.  Remove from the pot and set aside.  In the same pot, add chopped onion, fennel, celery and carrots.  Stirring frequently, until transparent.  Add in chicken stock and garlic, simmer on low until cooked all the way through and mushy, yes, mushy. Add the roasted pumpkin to your pot.
Using your emersion blender or a blender and blend until smooth and almost frothy. Slowly add in the coconut milk, ½ cup at a time, adding more or less to the soup until you reached the desired consistency.
Now is the best part… ladle the delicious smelling soup into a bowl, top with a dollop of sour cream (optional) and cover with bacon! Devour!  You're welcome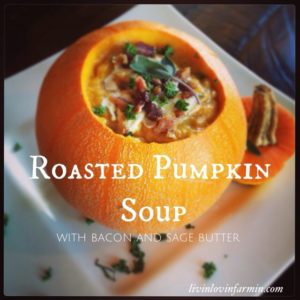 Check out more of my favorite  paleo recipes…