Its not easy getting up at the crack of dawn every single day to milk a cow.  Nor is it exceptionally fun to be milking in the heat of summer or the dead of winter when everyone else is curled up with a blanket and a cocktail next to the fire place.  But man is it worth it!  Buying and milking dairy cows has been the most rewarding investment on the farm.   Seriously, with the things I am able to make in my kitchen with farm raw fresh milk, makes its all worth while.  And let me tell ya, my family doesn't complain either!. Creamy, heavenly, Vanilla Bean Panna Cotta is just one of the incredible dishes that I am able to make with fresh milk.
This delectable Italian "cooked cream" is so impressive yet, so simple to make.  Its actually so easy,  I think it could qualify as a 'set it and forget it' type of dessert.   The Panna Cotta itself only takes 15 minutes to cook and the rest of the time its cooling in the fridge.  It can easily be made in the morning and ready to impress dinner guest by evening.  Slather some Homemade fresh huckleberry preserves on top and your ready for company baby, or in my case, a spoon and a pair of sweatpants. Enjoy
You can use farm fresh milk for this recipe or store bought.  Use what you have.  I do, however, recommend that you do not skip the vanilla bean!  It makes the dish.  You can buy them HERE.  They store great in a sealed mason jar.  Mine are 7 months old and still soft, pliable and full of flavor.   I also use them in homemade coffee creamer and homemade vanilla.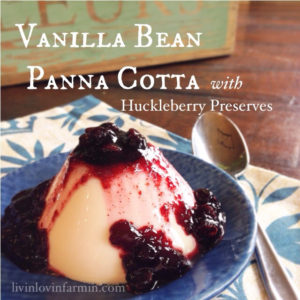 Vanilla Bean Panna Cotta
Ingredients
2½ cups skimmed raw cream
2 teaspoons powdered gelatin
½ cup organic sugar
1 vanilla bean, split lengthwise
Instructions
In a small pot, pour in cream. Sprinkle powdered gelatin over the cream, Allow gelatin to sit untouched for 5 minutes.
Add sugar and split vanilla bean to the pot.
Heat on low until a soft simmer is achieved.
Turn off heat and allow vanilla bean to release its deliciousness for 15 minutes.
Carefully pour mixture into 4 ramekins.
Chill for 4-6 hours or overnight.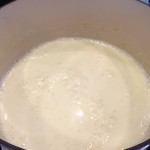 You can find beautiful ramekins for your Panna Cotta HERE..  And Grass-fed powdered gelatin HERE.
Check out some of livinlovinfarmin.com featured posts..