Let me first just say that this recipe is not my typical "whole foods" type recipe.  Twinkies of any sorts are not a everyday food.  These are not healthy nor are they Paleo.  However, they are a much better alternative to store bought and are really no worse for you then a homemade cupcake.
Growing up we never had junk food.  We lived fairly simply and whole foods were always on the menu. There was never a box of sugary cereal in our pantry.  Breakfast consisted of make your own eggs or a bowl of warm oatmeal.   Needless to say, with both my parents working full time jobs, I learned how cook real food at a young age.  It wasn't until I was late into my 20's that I actually even tasted the sweetness of a "Twinkie". And compared to grandmas cinnamon rolls,  it wasn't anything I was missing out on!
Now that my kids are at the age of friends sleepovers and birthday parties, the word "twinkie" seems to keep popping up in our household.  "Mom, can we get some Twinkies?"  NO!  "Why?'   because their filled with fake flavors produced in a lab!  (scare tactic much? but true!)  After several attempts to swindle the golden, frosting filled sponge cake into my shopping cart,  I finally decided that if my kids want to experience a Twinkie like treat, then its going to be a homemade one!  Are these healthy? NO!  but they sure beat the commerical ones with nearly 3 dozen ingredients, including monoglycerides, diglycerides, sodium stearoyl, diacetyl and polysorbate and pack a whopping 45 day shelf life!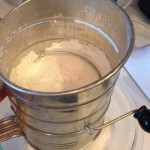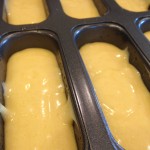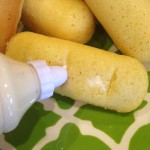 I was unable to find any of the above mentioned "ingredients" in my pantry, so I made them with good old fashioned flour, butter, milk and organic sugar.  I know, I'm SO boring!
Homemade Twinkies
Ingredients
2 large eggs
1/ ¾ cup sugar
⅔ cup softened butter
1¼ cup milk
1½ tsp vanilla
3 cups white flour. OR 3 cups + 2 Tablespoons cake flour
2½ tsp baking powder
1 tsp salt
FILLING
½ cup butter, room temperature
½ cup cream cheese, room temperature
3 cups powdered sugar
1 tsp vanilla
Instructions
In a mixing bowl, sift flour, salt and baking powder. Set aside.
In a stand mixer, cream together butter and sugar. Add in milk, eggs and vanilla.
Using the paddle attachment, slowly add the dry ingredients into the wet. Beat on high for 1 minutes.
Pour into batter into individual baking tins, filling only half way.
Bake at 325 for 16 minutes.
For Frosting.
Using a electric beater cream together cream cheese, butter and vanilla. Add in powdered sugar. Beat for 1 minute on high.
Allow Twinkies to cool completely prior to filling.
Using a cake decorator or piping gun, fill Twinkies from the under side, poking three holes and squirting in frosting of choice.
You can purchase a Twinkie baking tin HERE.   And a super cool decorating gun HERE.
Alternatively you can bake your Twinkies in a cupcake tin or even in individual small cornbread tins.
Check out more great recipes from Livin Lovin Farmin