Homemade Vanilla Bean Coffee Creamer
For the majority of my adult life, I have been held hostage by the delicious and famous French Vanilla CoffeeMate™ Coffee Creamer. If you have experienced this smooth morning delight, then you know what's fueling my addiction.
Growing up we had plain black coffee. It was terrible. (Sorry mom, but it was.)  As a impressionable young teenager, I began working in a coffee shop as a barista.  This brought on a whole new world to the once boring cup of black coffee.  There were hundreds of flavored syrup and thousands of combinations to try. And believe me, I tried them all.  In my three years of slinging coffee, I brewed up and created some delicious caffeinated concoctions and some not so delicious. Ok. Some were done right nasty.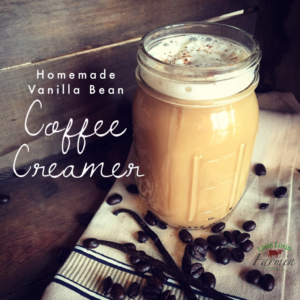 Despite my ability to have a sweet sugary (and free) coffee at fingertips everyday, I loyalty started my mornings consistently with Coffeemate™ Vanilla Creamer.
Skip ahead to a decade later. (Ok, maybe, a decade and a half later). I was full grown adult with young children at home and working in the medical field.  Health had become my new obsession. This meant there was no room anymore for my fakely (is that a word?) sweetened shelf stable addictive creamer. Sadly we had to part ways. And while I wasn't willing to quit cold turkey, I knew I had to come up with a better plan.  So off to the kitchen I went.  Initially my favorite go-to recipe was this homemade 
Paleo Coffee Creamer
, as I was practicing strict paleo and had eliminated dairy completely.  However, now that I have safely added dairy back into my daily life, as well as, adding a few more milk cows to the barn, this is my everyday coffee creamer recipe.
Homemade Vanilla Bean Coffee Creamer
Ingredients
3 Cups Cream
1 Cup Whole Milk
2 Vanilla Beans, Scraped, Seeds reserved
¼ Cup Organic Sugar
½ Teaspoon Grassfed Gelatin
2 Tablespoons Coconut Oil
1 Teaspoon Cinnamon - optional
Instructions
In a small kettle, over low heat, combine cream, milk, vanilla beans and scraped seeds. Allow mixture to heat and marry for 30 minutes, being careful to not let the pot come to boil.
Add gelatin, stirring constantly for 5 minutes.
Turn off heat.
Add remaining ingredients.
Allow creamer to cool, until just warm. Discard vanilla bean.
Pour the creamer into a blender and blend for 30 seconds.
I like the combination of both cream and milk.  I find that pure cream is a bit heavy for me, however, its decadent if you choose to use cream only.
Also, don't let the cook time discourage you from making it.  Sometimes when I'm pushed for time, I occasionally skip this and just heat the ingredients and pour it into the blender.  However the longer you can allow the
vanilla beans
to stew, the better the flavor will be. I've had excellent results with
THESE vanilla bean
s.
I store my creamer in a mason jar with these amazing lids.
I use gelatin in this recipe for several reasons. Not only is the gelatin a flavorless, colorless, thickener for the creamer but its also a simple way to get the incredible benefits of grass fed gelatin, such as collagen, digestions absorption, joint health and skin and nail health. Gelatin is primary composed of amino acids and proline, which are typically found in bones, organs and fibrous tissue of animals, which unless your a daily bone broth drinker, then our bodies don't get enough of these essentials amino acids in our diet these days.  So.. If you could add a bit of anti-aging, arthritis supporting, beautiful nail growing goodness to your morning routine, then why not?  I buy THIS BRAND. 
Variations- add any of these to the base recipe. Blend. Enjoy
Pumpkin spice
add 1/4 cup pureed pumpkin
add 1 Tablespoon of pumpkin spice  
Mocha
1-2 Tablespoons unsweetened fair trade cocoa powder
Peppermint Mocha
1 teaspoon peppermint extract
3 Tablespoons unsweetened fair trade cocoa power 
Want to make more homemade? Try these recipes.
Livin Lovin Farmin is a participant in the Amazon Services LLC Associates Program, an affiliate advertising program designed to provide a means for sites to earn advertising fees by advertising and linking to Amazon.com.
This post has been linked up to the following blogs…Go check them out!
http://www.the-chicken-chick.com/2014/07/clever-chicks-blog-hop-95-with-chicken.html