Tomato soup is a staple in our home.  Especially during cold winter nights.  There's nothing more simple or well loved then a big ole bowl of hot tomato soup and a toasty grilled cheese Sammy!  Not only is this tomato soup healthy but its also delicious.  You'll never buy overly processed commercial tomato soup concentrate again.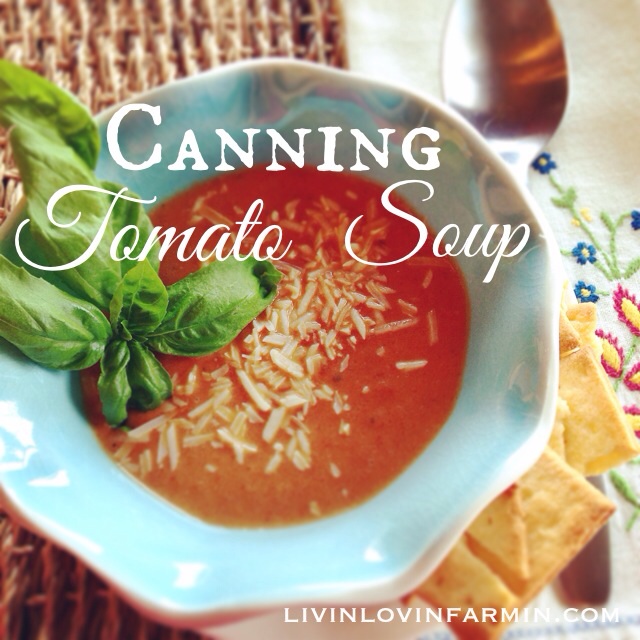 Every year I get a aim for a giant tomato harvest.  On the average, I will plant roughly 75 tomato plants.  Several years ago I started experimenting with canning tomato soup.  I wanted a healthy, tasty, good old fashioned tomato soup.  One that was delicious, no crap added, vegetable rich, wholesome and can-able!  After a couple of seasons of being a mad scientist with ingredients, I have come up with a smooth, creamy, nutrient dense,  tomato soup concentrate that is safe to can and delicious to eat.
This is my 8th year canning this tomato soup concentrate and it is a must-have in our pantry year round.
Canning Tomato Soup
Ingredients
25 pounds fresh tomatoes
3 onions,
1 bunch celery
1 Tablespoon bacon fat
1 cup honey
¼ cup salt
2 bay leaves
1 Tablespoon Italian seasoning.
2 Tablespoons bottled lemon juice per jar
Instructions
In a food processor chop onions and celery until finely chopped.
Add onions, celery and fat to a cast iron skillet until translucent and aromatic, using just enough fat to prevent sticking and no more.
In the food processor, working in batches, purée tomatoes and pour into a LARGE kettle or stock pot.
Add in sautéed onions and celery, honey, salt, bay and Italian seasoning. Stir until well combined.
Heat to a boil. Reduce to a light simmer for 2.5 hours, removing the foam and stirring frequently.
Prepare water bath canner, lids and rings per manufactures instructions. Sanitize all tools and surfaces.
Remove bay leaves.
Using a food mill, slowly mill small batches of the soup. Careful this is HOT. Pour back into a large nonreactive stock pot.
In each jar add in 2 tablespoons of lemon juice. Carefully ladle the Tomato soup into prepared hot jars leaving ½ inch head space. Wipe rims clean, add lid and rings and processor for 50 minutes. Based on elevation up to 1000ft.
* Be sure to adjust your processing time for higher elevations.
To serve;
Heat soup in a medium pot to a light simmer for 15 minutes, add milk. Remove from heat and add ¼ teaspoon baking soda.
Serve in a bowl with a delicious cheesy sandwich!...and be sure to invite me over!
Note.. If you don't have fresh tomatoes you can use 8 quarts of stewed tomatoes.
**Heirloom tomatoes are said to be higher in acidity then commercial hybrid.
Disclaimer.. All my canning recipes are for educational or general information.  These recipes I use and deem personally safe for me and MY family.  I  make every effort provide proper and safe recipes based on published canning data. However,  I make no guarantee to their completeness, accuracy, up to date information or magical abilities.   This recipe has not been regulated by the FDA, FTC OR any other 3 letter federal regulatory agency.  livinlovinfarmin.com and its owner(s), hold no responsibility for results produced by any readers efforts.
Check out a few of my favorite canning tools. Affiliate link..