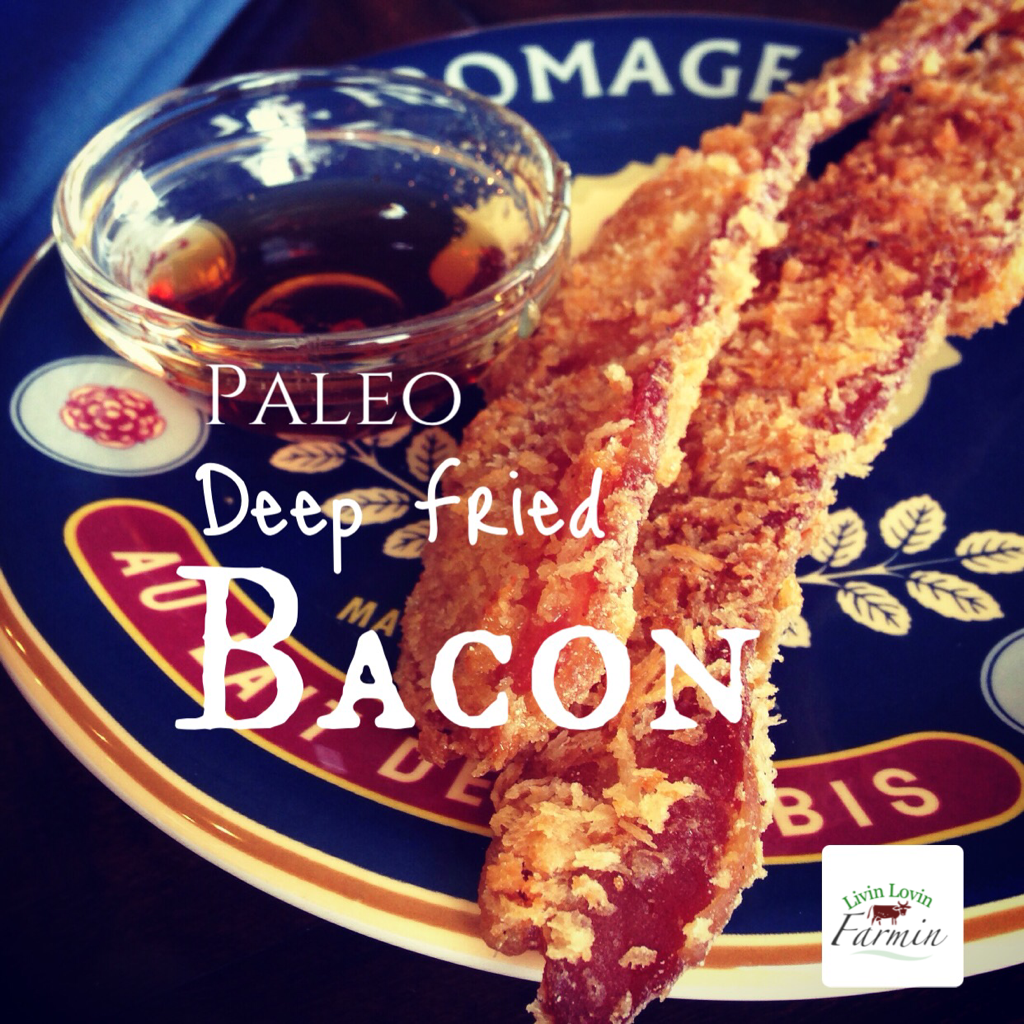 Today is very much a comfort foods type of day. This morning we woke up to seven new inches of fluffy white snow. And as beautiful and crisp as the snow is, I could really live without it. Not only does it make for slick driving conditions but it makes farm chores twice as hard.  It also makes me want to cook, cook, cook!
So that's what I did!  And is there any better comfort food than bacon? How about breaded and deep-fried bacon! Seriously Delicious!!
*See note at the bottom on How to make it Paleo*
Here's what you need;
1 pound Pasture raised bacon
3 beaten eggs
3 Tablespoons Pure maple syrup
1/2 cup tapioca flour
One cup Panko crumbs or crushed pork rinds to make it paleo
Heavy cast-iron fry pan and lots of bacon fat!
Preheat oven 350
In three separate shallow bowls or plates, add tapioca flour to one, Panko to another and combined beaten eggs and syrup to the third.
1.) Dredge bacon one piece at a time. First in the tapioca flour, then into the egg/syrup mixture and lastly into the Panko.
2.) Over medium heat, add 3 tablespoons of bacon fat in a medium sized fry pan. Place the dredged bacon in the hot fry pan and fry just until lightly golden. Flip sides of the bacon and do the same.
3.) Once both sides of the bacon are lightly golden place on a baking sheet and bake until dark and crispy about 20 minutes.
Continue steps until all the bacon is done.
4.) Serve up with a couple eggs and a side of syrup to get them
Devour!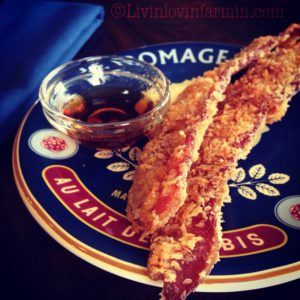 **TIP..To make Paleo "panko" crumbs, quickly crunch up some pork rinds in a ziplock bag until you get a panko like substance.**

YOU CAN BUY PANKO..HERE