As most of you know, I have a serious addition to coffee, I love it.. but, I hate the sugar and crap that goes into that famous french vanilla coffee creamer, so naturally, I make my own.
When my cows are dry or I'm practicing strict paleo, this is the recipe I use.  The coconut cream gives the creamer a light coconut-y flavor, yet not overwhelming, while adding grassfed gelatin or an egg (or both) gives the creamer super smooth texture.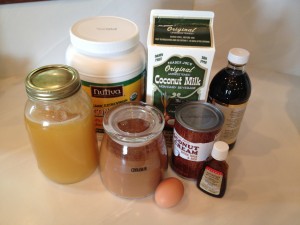 Paleo Coffee "Creamer"
1 Can Coconut Cream- I purchase mine at Traders Joes
1/4 teaspoon grass-fed gelatin
1 Tablespoon REAL vanilla
1 teaspoon almond extract
1/4 cup local organic honey
2 Tablespoons coconut oil- liquefied
Extra coconut milk for thinning
Add all your ingredients to your favorite blender, blend, pour into a glass container with a lid and refrigerate overnight.   Done.   Simple right?  The creamer will thicken in the refrigerator.
*Want to a protein to your coffee? Tosh in a raw in the blender with the rest of the ingredients.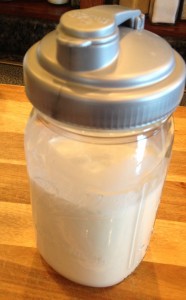 Have you seen these lids? They screw onto your mason jars.  Their called reCAP and come in both wide and regular mouth size.  You can buy them here

Variations- add any of these to the base recipe. Blend. Enjoy
Pumpkin spice
add 1/4 cup pureed pumpkin
add 1 Tablespoon of pumpkin spice  
Mocha
1-2 Tablespoons unsweetened cocoa powder
omit almond extract
Peppermint Mocha
1 teaspoon peppermint extract
3 Tablespoons unsweetened cocoa power 
omit vanilla and almond extract
Want to try a dairy verson?  Check out THIS recipe.