I'll admit, the first time I tried these oysters I was at our friend's house and I thought, 'gross, what an odd combination of ingredients!' However, it only took one whiff of the deliciousness delicious and I was sold! They have been one of my favorite appetizers ever since.
These are perfect snack for game day or even a Friday night get together.  Or say… tonight. Ok!..don't mind if I do.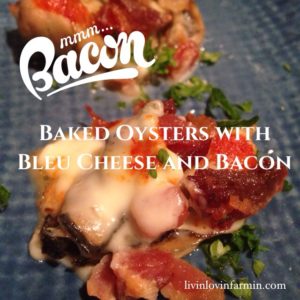 Baked Oysters with Bleu Cheese, Bacon and Hot Sauce
Ingredients
Two dozen oysters, either in the ½ shell or jarred.
(Today our market only had jarred, apparently fresh oysters in Idaho is not top priority)
5 oz. Blue cheese, chunked
4-5 pieces bacon, precooked
One green onion, finely chopped
Franks Hot sauce or Sriracha sauce
Fresh parsley to garnish (optional)
Instructions
Preheat oven to 400°.  If you're using jarred oysters, wash them thoroughly and remove any gritty shell particles and place them in a muffin tin. If your using oysters are in the shell, you can forgo the muffin tin and just place them on a baking sheet.
Bake the oysters in the oven at 400° for 20 minutes or until done.  
Remove from the oven and place a small piece of precooked bacon on each oyster, then a hefty slab of bleu cheese. Top off with a squirt of hot sauce.
Return back to the oven just until the bleu cheese has melted. Remove from the oven and as soon as they have cooled to the touch, transfer to a platter and serve.
Why is it when I say "oysters in a half shell"  I want to scream "

TURTLE POWER

!" ?
My one jar made 6 baked oysters and I will eat all 6 of them, because I don't share well! True story. These oysters pair perfectly with a chilled glass of Chardonnay. Ok fine! Two glasses of chilled chardonnay.
Now it is time for y'all to get out of my kitchen so I can devour these like a gluttonous hog!
* A special thanks to my friend Steve and Stacy for sharing their delicious recipe.*
Check out more from Livin Lovin Farmin
Livin Lovin Farmin is a participant in the Amazon Services LLC Associates Program, an affiliate advertising program designed to provide a means for sites to earn advertising fees by advertising and linking to Amazon.com.