Stewed tomatoes are by far the most versatile and most used item in my pantry.  From spaghetti, to Mostaccioli  or  soup, stewed tomatoes are easy to grab and make a healthy delish meal for my family.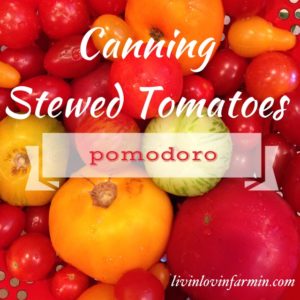 Each year I plant around 75 tomato plants in my garden.   Some are used for fresh eating and snacking but the majority of them are canned up.  All plants are of heirloom varity.  A few of my top producers are yellow Mortgage Lifter, Cherokee Purple, Black Krim, Yellow Pear and Money Maker, all of which, I have saved the seeds and replanted year after year.   If your planting a garden for the first time and need seeds, I HIGHLY recommend Baker Creek Heirloom Seeds.
Unlike heirloom varieties, todays mass produced  tomatoes not only lack flavor but also lack the proper pH necessary to safely water bath can tomatoes. This problem can be solved by adding a acid to the mix, such as bottled lemon juice.
The USDA  says:     Although tomatoes usually are considered an acid food, some are now known to have pH values slightly above 4.6. Figs also have pH values slightly above 4.6. Therefore, if they are to be canned as acid foods, these products must be acidified to a pH of 4.6 or lower with lemon juice or citric acid. Properly acidified tomatoes and figs are acid foods and can be safely processed in a boiling-water canner.
Today I'm canning up some stewed tomatoes.   In half of the jars I will add a tablespoon of  dried Italian seasoning right before I place them in the water bath canner.  Adding the seasoning at canning time is a quick and easy way to flavor the tomatoes and saves a step at dinner time.  This to me is like "convenience food."   The Italian stewed tomatoes are a great addition to chili, lasagna and or even just poured on top of some fresh pasta.
LOVE IT * PIN IT!
Canning Stewed Tomatoes
Ingredients
20 pounds tomatoes
Bottled lemon juice
Canning salt
optional
Dried Italian seasoning
Instructions
Makes 7 quarts
Prepare water bath canner, lids and rings according to manufactor instructions. Sanitize all tools and equiptment.
Heat a large stock pot with boiling water.
Wash tomatoes and cut off any blemishes. Using a small sharp paring knife, slice a small X in the bottom of the tomato, this will help to remove skins.
Working in batches carefully drop tomatoes into the boiling water, until the skin has slightly cracked and begun to fold back
Plunge hot tomatoes into a ice bath and carefully peal off the skin.
Cut the pealed tomatoes into quarters. Place them into a large stock pot, heat to a soft boil.
Ladle the hot tomatoes into hot sanitized wide mouth quart jars leaving
In each jar add 2 tablespoons of bottled lemon juice and 1 teaspoon salt.
*Optional.. Add 1 Tablespoon Italian seasoning to each quart.
Place jars into water bath canner. Making sure each jar is covered by at least 2 inches of water. Bring to a rolling boil. Once a rolling boil has been achieved process for 45 minutes.
* IMPORTANT* Be sure to add an additional processing time based if your elevation is higher then 1000ft. Example.. I'm a 2600ft, therefore I will process for 50 minutes instead of 45.
 Disclaimer.. All my canning recipes are for educational or general information.  These recipes I use and deem personally safe for me and MY family.  I  make every effort provide proper and safe recipes based on published canning data. However,  I make no guarantee to their completeness, accuracy, up to date information or magical abilities.   This recipe has not been regulated by the FDA, FTC OR any other 3 letter federal regulatory agency.  livinlovinfarmin.com and its owner(s), hold no responsibility for results produced by any readers efforts.

 

Livin Lovin Farmin is a participant in the Amazon Services LLC Associates Program, an affiliate advertising program designed to provide a means for sites to earn advertising fees by advertising and linking to Amazon.com.

A few of my FAVORITE canning must-haves..