Why would one go through the trouble of making and canning their own ketchup?  Well, because commercially made ketchup is full of junk, thats why!  Junk, as in, High fructose corn syrup (made from GMO corn) and sugar!  And to me the organic ones just don't cut it in ketchup world.  Actually, they're just kind of gross.  But as it turns out, I have a garden full of tomatoes and a shelf full of spices, so off to make some ketchup I went and ketchup I conquered! Not to brag but this ketchup kicks total butt!! And it cost me nothing. Nothing.  Zero. Zilch. That's my favorite amount of money to spend.  Literally, I spent zero dollars and made zero trips to the store and now I have 6 pints of Paleo Organic Ketchup and the comfort in knowing that the condiments I'm feeding my family are not only delicious, but they are wholesome.  You just can't go wrong with homemade my friends. 
Paleo Ketchup
Canning Sugar Free Ketchup
Ingredients
15 pounds of paste/plum or Roma tomatoes (however, I threw in ½ dozen of yellow mortgage lifters because I needed to use them up) quartered.
2 large onions, diced
7 cloves of garlic, minced
3/4-1 teaspoon allspice
1 teaspoon cinnamon
1 small can organic tomato paste
1 cup apple cider vinegar
3/4 cup local honey
1 Tablespoon + 1 teaspoon canning salt
1 teaspoon paprika
1 teaspoon smoked paprika
¼-1/2 teaspoon cayenne pepper
1/2 teaspoon cloves
Instructions
Sauté onions and garlic in a 12 quart stock pot until translucent, add in quartered tomatoes.  Simmer on med-high for 20 minutes, stirring frequently.   Add in the remaining ingredients.  Simmer for 30 minutes.
Working in batches, run tomato mixture through a food mill.  Return to a rapid boil for 3 hours, stirring often.  Yes, 3 hours, you want your ketchup to be nice and thick.  It will need to reduce to about ¼ of the volume from when you started.
Prepare water bath canner, along with jars and lids according to your manufactures instructions. Carefully ladle hot mixture into hot jars, leaving a 1 inch head space, wipe rims and place lids and rings on.   Water bath can for 30 minutes.
Check seals after 12-24 hours, wipe jars clean of any debris and store in a cool dry place for up to 1 year.
This made 6 pints.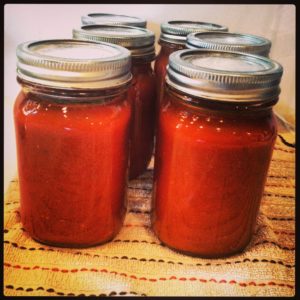 THIS is my absolute favorite water bath canner of all time.  And of course no kitchen is complete without THESE canning necessities and THIS book!
Want more canning whole foods canning recipes?  Check out these posts.
Livin Lovin Farmin is a participant in the Amazon Services LLC Associates Program, an affiliate advertising program designed to provide a means for sites to earn advertising fees by advertising and linking to Amazon.com.