Earlier this week I made and canned a simple marinara * see THIS post* and I've been dying to try it.  Tonight is the night!
I wanted to make a fresh one pot dish, Primal (mostly) and use ingredients from my garden.  Here is what I came up with.  And I have to say… IT'S FLIPPIN DELICIOUS!!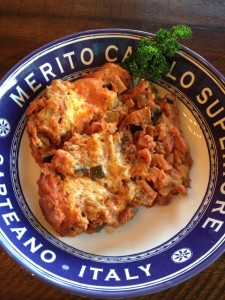 Low Carb, Gluten Free, "Mostacciolli"
1 quart jar Easy Marinara
(or sub 1 can strewed tomatoes and 1 can tomato paste)
1 medium sized eggplant, chopped
1 small zucchini, chopped
1 onion, chopped
¼ cup finely chopped fennel- optional
Glove or two of garlic, minced
1 pound Italian sausage
1 cup cream cheese
1 Tablespoon Italian seasoning
Salt and pepper to taste
In an oven proof kettle, such as a Le Creuset, (fyi, do not make jam in your Le creuset, see pix)  brown sausage.  Remove to a bowl using a slotted spoon and set aside.   In the sausage juices and fat, sauté onions, eggplant, fennel and zucchini until lightly softened, about 20 minutes.  Add back in sausage and the marinara and garlic.  Simmer on low for 10 minutes; add cream cheese, stir and combine.  Sprinkle top with fresh grated parmesan, cover and bake for 30-45 minutes.  (Or until you're starving kids drive you nuts)
Remove from oven, let sit for 5 minutes.  and Devour!