WINNER ANNOUNCEMENT AT THE BOTTOM…
As some of you may already know, my dear friend Heather from Green eggs and Goats, recently published her debut whole foods cookbook, The Homestead Kitchen.  A delightful, easy to follow, real foods manual.  Heather has dedicated 125 pages to recipes, pantry supplies, menu planning and homesteading.  My favorite part about Heather's book?.. She includes a whole section on how and why you should be cooking with chicken feet.  Yup.  Chicken feet are the new black my friend.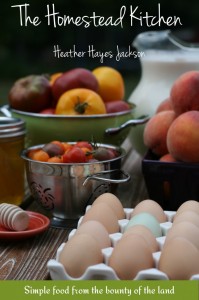 One of my favorite part about owning a whole foods cookbook,  is you can pretty much open to any page and cook just about any recipe in it because you already have the ingredients.  No fancy sauces, flours or butters.  Just good old fashioned real food for the whole family.  The Homestead Kitchen is packed with feel good, simple comfort foods.  With savory home-style dishes like Horse Radish Deviled Eggs and Creamy Zucchini Soup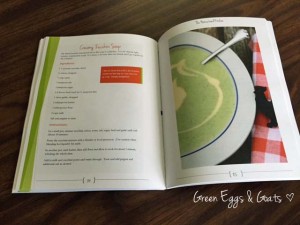 And seriously sweet sinful  delights like Key Lime Chevre Cheesecake and  Drunken Peach Cobbler  (A recipe so delicious that my page corners are already sticky.) makes this book an excellent choice for the homestead cook.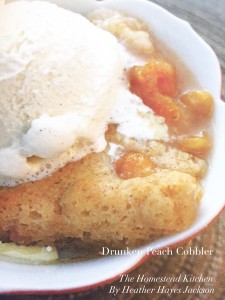 Often as homesteaders, we find ourselves overwhelmed by the foods we worked so hard to produce. Fruits and vegetables from our garden (or our CSA basket) overflow the counters, raw milk is taking over the fridge, the chickens are laying eggs like crazy, and yet, it's still hard to figure out how to get a fresh meal on the table each night. The Homestead Kitchen will guide you to plan menus around what you have on hand. It provides frugal tips to help you get every ounce of goodness from your fresh ingredients and it will give you the confidence you need to turn your ingredients into easy, delicious meals. The book includes 40 real-food recipes, each featuring fresh ingredients that can be raised on a small homestead or purchased at many farmers' markets. Each recipe also includes a mouth-watering picture. Heather Hayes Jackson
Heather has graciously volunteered to GIVEAWAY a copy of her new book, right here on my blog!! To enter the giveaway to receive a complimentary copy of THE HOMESTEAD KITCHEN, please read the contest rules below. 
Ready to enter? Instead of doing one of those annoying rafflecopter things, I'm going to keep this simple and  pick a random winner from my newsletter list.  That's it.  All you have to do is subscribe to LiviniLovinFarmin's newsletter to enter.  The winner will be picked  randomly, notified by email and announce on my blog.  BAM.
*If you are on a mobile device, Right under the comments section, you will find a place to enter your email address.  Confirm your email address and your all set.
Giveaway ends Wednesday February 11th 2015 at 12.00 am.
If you don't want to wait for the giveaway to find out if you won a copy of The Homestead Kitchen or not, or just want a extra copy, you can purchase a copy by clicking on the picture below.

Official rules: Winner will be notified per provided email. Winner must respond within 24 hours of email notification or a new winner will be randomly chosen. No purchase necessary to enter. Winner will be randomly  be chosen from LivinLovinfarmin's newsletter list. One copy of The Homestead Kitchen will be given away to One reader.  This giveaway is in no way affiliated with Facebook, Pinterest or Google+.  I, Katie, Owner of LivinLovinFarmin, was not paid or compensated in anyway to write this review, these are my own thoughts and opinions.  May the force be with you. 
Heather Hayes Jackson is a homeschooling, cow milking, ninja warrior.  You can read more about Heather on her Blog Green Eggs and Goats HERE.
CONGRATULATIONS SARAH Jane H.      YOU HAVE A COPY THE HOMESTEAD KITCHEN COOKBOOK
Want more Homesteading? Check out some of LivinLovinFarmin featured post.