Is there anything worse in the winter then dry chapped lips?  Seriously, I can handle being cold and crazy wind blown hair, but when it comes to protecting my lips from the elements, having lip balm in my pocket is a must.  It seems easy enough.. have lip balm, apply to lips, right?  Wrong. Do you know whats really in commercial lip balm?  Its scary  and dangerous.  After reading several blogs and reports about toxic chemicals in our cosmetics, I started using just plain coconut oil for my lips but I either had to dig in the pantry for a jug of coconut oil every time I needed lip balm or I would put it in a container and it would melt in the my pocket.  Annoying!  Since lip balm is not something I'm willing to live without, then I've  decided to make my own to avoid the potential harmful chemicals.   And with only a handful of natural ingredients, there's no reason to not make your own.  AND.. its economical!  Say what?  YES!.  All of the ingredients used to make this lip balm are ingredients you can use to make other homemade cosmetics. Speaking of… have you tried my Homemade Toothpaste?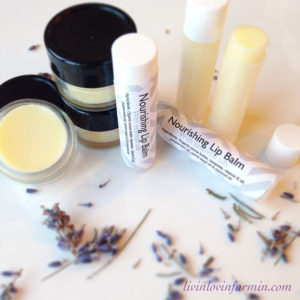 I melted down some organic solids to the coconut oil and after my fourth time making homemade lip balm, (yes four times!)  I came up with the perfect combo of silky smooth but firm enough so it won't melt in my pocket and.. with the addition of the pure carrot seed oil, it gives this lip balm a spf of almost 50!  How cool is that! And super perk.. it only takes 10 minutes to make enough lip balm for myself and to put into homemade Christmas baskets.
 "In its near 30-year history,however, the industry's panel has reviewed just 11 percent of the 10,500 cosmetic ingredients cataloged by FDA (FDA 2000). The 89 percent of ingredients that remain unassessed are used in more than 99 percent of all products on the market (EWG 2004a)". You can read more about it here and  here.
Does your favorite lip balm contain toxic chemicals?  You can find out.. HERE
HOMEMADE LIP BALM
2 Tablespoons of beeswax pellets
1 Tablespoon Cocoa Butter
3 drops vitamin E oil
5 drop peppermint essential oils
5 drops carrot seed oil
3 teaspoons coconut oil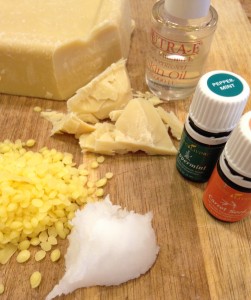 Place a glass Pyrex (with a pour spout) in a pot of water, like you would make a double boiler.
Add in your beeswax pellets, cacao butter, coconut oil, vitamin E oil.
Allow the mixture to melt slowly. Stirring constantly until the mixture is fully melted, take off the heat.
 Drop in peppermint and carrott seed essential oil and carefully pour into chapstick tubes or balm containers.
Allow to cool overnight before applying or packaging.
These make excellent gifts or even simple stocking stuffers.
*source..http://www.ewg.org/news/testimony-official-correspondence/fda-warns-cosmetics-industry-follow-law-untested-ingredients
* http://www.ewg.org/skindeep/myths-on-cosmetics-safety/
Check out some more of livinlovinfarmin's featured posts.
Livin Lovin Farmin is a participant in the Amazon Services LLC Associates Program, an affiliate advertising program designed to provide a means for sites to earn advertising fees by advertising and linking to Amazon.com.