When it comes to winter on the homestead, the threat of freezing temperatures is at the top of my concern.  The possibilities for situations to go wrong is at its peak and being well prepared is the only way to go into this season. Since the average rural farmer can't just run into the farm supply store every time something goes astray, keeping a well stocked tack and barn is a must.  Besides the threat of broken pipes and frozen water troughs, cold, wet, animals is a dangerous concern.
Below I have listed several common homestead aliments and ways to manage them during freezing temperatures on the homestead.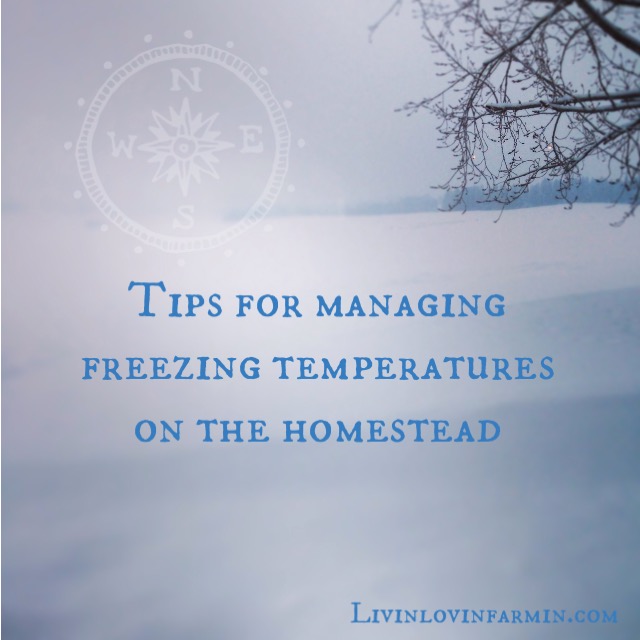 Frozen Pipes
Broken pipes, frozen water troughs and  blown out hoses are all headache worthy but  the good new is, that most of these are preventable.  Two words… heat tape!  This super awesome invention has saved my behind over and over again.  I wrap the exposed frost free pipe and plug it into an outlet. I keep my heat tape exposed, meaning, I do not cover the heat tape with any kind of  insulation, as this could result in a fire.  [Please follow manufactures instructions when installing heat tape.]  This keeps the pipe from freezing even when the temperatures reach the negatives.   As long as you have access to fresh water, so do your animals.
Broken Hoses
Keep any hoses in a insulated shed or garage.  Hoses that have remaining water in them, freeze easy and are at risk to  crack and blow a hole.   If by chance the hose is frozen, un-thaw the hose before trying to push water through it.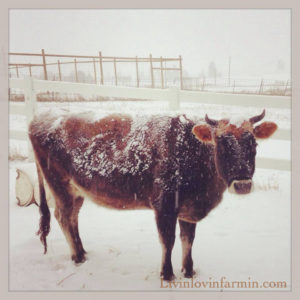 Frozen Water Troughs
Water troughs freeze easily. Once the trough has turned into a giant block of ice, your SOL my friend.  If the temperatures are in the 20's or above, you may be able to chip the ice out with a pitch fork.  This is a long and frustrating process. However, water is a absolute necessity to livestock and they can not go without it.   Goats and sheep can drink up to 4 gallons of water a day and the average cows can drink up to 25 gallons of water per day (heavy producers will consume even more, sometimes double), so keep your trough capacity and supply adequate enough for size of your herd.   Water is the single most important nutrient in a cows daily intake and most often its the most neglected.  Going without water, even for just half a day, can result in severe consequence, even death.  Livestock need water to regulate body temperature, aid in digestion, utilize nutrients, maintaining adequate milk supply and overall sustaining optimum health.  To keep troughs from freezing, use a simple water heater.  I prefer THIS one, however, due to my lack of proper voltage in my barn, I use THIS one.  It does its job down to about 5 degrees, anything lower and ice begins to form.  This requires me to check my waterers several times per day, which is a pain.  Thankfully, we only have a couple weeks of 5 degrees or lower here in Idaho. Be sure to always have a backup water trough heater.
Chicken Waterers
Chickens are not exempt from the water rule.  They too, should never be without it.  Chickens require water for proper growth and egg laying. Their little water founts can freeze easily so,  I personally prefer to use THIS  water heater on our homestead,  as it can easily placed and removed without changing water founts.    I have also used THIS one, but its a giant pain in the butt to fill up and I always end up spilling half of it on myself.   Unfortunately, since the coop is not set next to a electrical source, I have to bring in extension cords.   In all honesty, I have a fear of extension cords.  I think their a fire hazard, especailly when in a barn with hay or wood chips.  Because of this, I only use a heated water source when absolutely necessary.
Ruminated animals all heat their bodies from the inside out.  This means that during temperatures of 30 degrees and below,  cows, sheep and goats will require more feed to maintain and regulate their proper body temperature.  
The more work for the rumen – the more heat that is produced. Once the temperatures drop below 30 degrees, livestock nutritional needs increase in order for them to maintain a normal body temperature.  Allow a supple supply  hay for your barnyard animals.  During the winter, my dry cows have 24 hour access to oat hay.  This cereal grain hay is quickly gaining popularity in the cattle  industry and for good reason.  The grain head of the oat hay  is still attached, giving cattle plenty of protein, between 12-16% depending on when it was cut,  while the straw gives them the necessary roughage they need to fuel the rumen.   Oat hay takes longer then high priced alfalfa to break down in the rumen, therefore, more efficiently heating the animal.
The majority of healthy hoofed animals can tolerate cold temperatures just fine.  What one does need to take extra care with is wind and  wet, freezing temperatures.
Shelter
Unless the windchill is in the low single digits or lower, I do not allow the cows in the barn unless it is milking time.  This keeps my barn manure and fly free.  The cows do have access to a small metal livestock shed at all times  for wind and shade breaks.  However, in all honesty,  they only ever go in there to poop!
Heating chickens is a bit simpler. When the snow is flying and the wind is blowing, ones  first reaction is to keep chickens housed in.  However, cutting out fresh air supply in poultry houses can result in serious health issues.  Chickens have very sensitive respiratory systems and eliminating fresh air circulation can quickly cause illness and spread disease.  During the cold months, allow chickens to continue to  have  access to the great outdoors if they choose, when their cold, they'll come back into their coop.  There are many people who choose to put a heat lamp in their chicken coop.  I am not one of them.  Heat lamps can put your beloved poultry at risk for a deadly  fire.  Every year there are reports of chicken coops  burning down to the ground.  The cheap heat lamp is always the culprit.  Instead of heating the coop, focus on heating the chickens internally with feed.  A simple way to increase a chickens body temperature is to increase carbohydrates.  Corn is a popular grain for the cold months.  Corn should not be replaced as a main feed.  Instead  toss a couple handfuls of corn on the ground and allow the chickens to use this opportunity to get out of the coo.  Scratching for the corn is an excellent way for chickens to socialize.  just like you and I, animals get stir crazy also.  Another excellent option to help heat is to add  cayenne pepper to their feed. Chickens do not have heat receptors.  The cayenne pepper will warm up their body without burning them.  Bonus,,, cayenne pepper acts as a natural dewormer for chickens.   You can find my homemade poultry feed recipe here. 

Choose cold hardy chicken  breeds. 
It goes to say, that if you live where you have freezing temps, one should choose their breeds wisely.  This goes for livestock and chickens.   Attempting to keep an ornamental breed chicken in the land of snow, rain and ice is a difficult task.  They will require more insulation and will become high maintenance unlike a cold hardy breed.  The Buckeye and Chanteclers are both known for their excellent cold hardy genetics.  Single combed chickens are at greater risk to get frost bite then that of a pea combed chicken. And while feather footed chickens have extra fluff, their long foot feathers are hard to keep dry, making it susceptible for ice to build along their toes and legs.
Recommended Homesteading books
Check out more Homesteading posts from  Livinlovinfarmin