I remember driving home with my family when I was a child, maybe only 10 years old,  I was sitting quietly in the back of our mini van with my hand in a bucket full of milk, playing with the cold cow tongue that was floating in the bucket.  It was dinner.  I thought it was super cool to play with, but I wasn't so sure about eating it.  Turns out, whether its tongue, liver or heart, it taste like beef.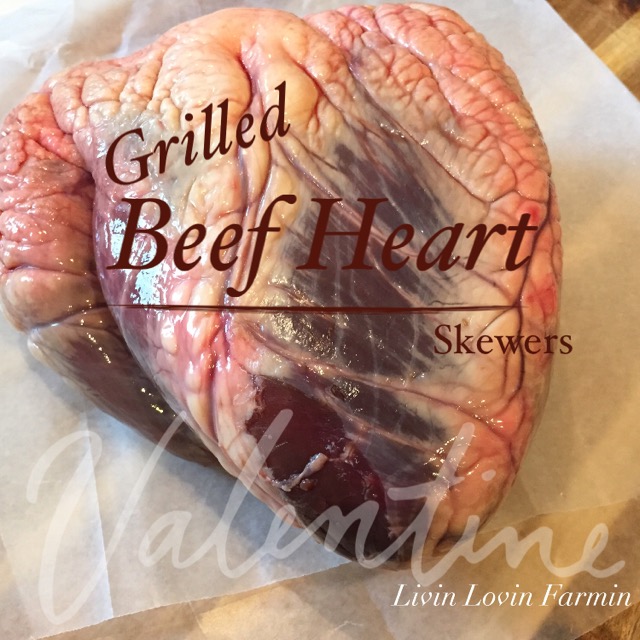 In terms of nutrition, beef heart is a super food.  It has about the same amount of calories as a chicken breast and its one of the only cuts of meat that is high in the much needed CO-Q10 enzyme. Beef heart is also especially high in vitamin B-12.  Just 3 ounces of heart can provide 200% of the daily recommended intake and 50% of the recommended daily intake for Iron.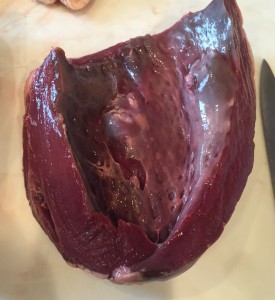 Last fall when we butchered our grass-fed steer, I made sure to tell the butcher that I wanted to save the "offal", not awful, but offal, the heart, liver, all the fat and bones, ect.  I'm a firm believer that when you kill an animal for its meat, you need to make use of every part of it.  This seems to be forgotten among today's modern culinary culture. Many people know the  benefits of beef hearts but few are willing to try it.  So when my friend Caitlin Weeks, who blogs at GrassFed Girl, sent me a copy of her new cookbook, Mediterranean Paleo Cooking, I was beyond ecstatic to see that she too, uses beef hearts, liver and other vital nutrient rich organs in her everyday cooking.  Her new book is co-authored with her husband, Chef Nabil Bounmrar and Diane Sanfilippo, who also wrote one of my all time favorite paleo cookbooks, Practical Paleo.  Mediterranean Paleo Cooking  is packed full of recipes featuring these amazing power packed parts.  Its actually my favorite part of the book, if grandma wrote a paleo cookbook, this would be it for sure.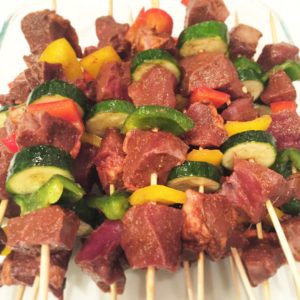 For a summer touch, I transformed my beef heart skewers into shush kabobs by using slices of red onion, zucchini and bell peppers.  I love the taste of BBQ'd vegetables and so does my family.  My kids, 13, 7 and 3, all knew they were having beef heart for dinner and all of them gobbled it up, making several trips back for seconds and thirds. (My 7 year old even ate a cold one for breakfast the next day)  We topped the skewers with a delicious Tzatziki sauce, also from Mediterranean Paleo Cooking and it was a prefect combinations of flavors.
Published with permission from Caitlin Weeks
Grilled Beef Heart Skewers
Ingredients
1 pound beef or lamb heart, cut into 1 inch cubes
1 Tablespoon Cumin
1Tablespoon Paprika
1/2 Teaspoon Chili Powder
Pinch of Sea Salt & Pepper
1 Tablespoon Apple Cider Vinegar
1 Tablespoon Unsalted Butter or Coconut oil, melted
1-2 dozen wooded skewers
Instructions
If your working with a whole heart, prepare your beef heart, by slicing it in half, then remove connection tissue, muscles, tendons and silver skin. Alternatively, you can buy a prepared beef heart straight from the butcher.
Combine the cumin, paprika, chili powder, salt & pepper in a small bowl. Add in apple cider vinegar, mix and add to the cubed meat, thoroughly coating every cube.
Let the meat marinate for up to 1 hour in the refrigerator.
Soak the wooden skewers in a pan of water for 1 hour.
Heat a gril pan or barbeque on medium heat.
Skewer the meat onto the wooden skewers, rotating veggies, if desired.
Brush the grill with the melted fat. Cook the skewers for 2 minutes on each side, or until browned.
Mediterranean Paleo Cooking Tzatziki Sauce
Published with permission from Caitlin Weeks

1 1/2 cups plain full-fat yogurt or cream from 2 cans of full-fat coconut milk, chilled overnight

1 cucumber, peeled and seeded and quartered

Juice from 1 lemon

Sea salt and Pepper to taste

1 handful of fresh dill

1/4 cup tightly packed fresh mint leaves

2-3 cloves garlic, peeled

Place all the ingredients in a food processor and pulse until smooth.  Store leftovers in the refrigerator for 3-4 days.
** If using coconut milk, make sure that it is very cold.  Scoop off the cream that has risen to the top of the can and save the coconut water for another use.
*I substituted the plain yogurt  for sour cream because, well, I own a grass-fed dairy cow!
You can buy a copy a Mediterrean Paleo Cooking here and be sure to check out Grassfed Girls Blog here. * I have also made the leg of lamb from a recipe in this cookbook and it was devine!
More featured posts from Livinlovinfarmin
Want all your organic, non gmo groceries shipped to front door.. and at wholesale prices? Check out Thrive market.  Seriously, whats better then grocery shopping from your couch?