Canning Nutritious Bone Broth
My body is begging for some serious nutrition.  Bone broth to the rescue!  I know you have heard of bone broth but I think few really understand how incredibly healthy this is for our bodies.  Great grandmas have been making homemade chicken noodle soup for decades, starting with a stock pile of bones.  And in my little adventurous mind, I can even picture little old cave-grandmas whipping up a big ole kettle of broth over hot coals.  Why? Well, because cave-grandmas are awesome!  Not only does natures super juice ward off infections, strengthens your hair and nails but also these amazing amino acids decreases inflammation and boost the immune system!  Winner, winner, chicken dinner.  Or beef, or turkey or fish even….  Or you could be wild and crazy and toss in all four.  As long as it is pasture raise, grass-fed or wild caught, feel free to "stock" up.
Save the Bones!..and Feet
My husband and I are fortunate enough each year to raise a grass-fed steer or two for the freezer.  Per my cut instructions to the butcher, he saves me ALL the bones.  This is awesome for a keto farm girl like myself.  Throughout the year, I save any extra bones (from roasts, chicken and FEET and turkey carcass) and rat-hole them in the freezer until I am ready to make broth, I add these extra to the marrow bones and make a giant pot of glorious bone broth. Waste not, want not.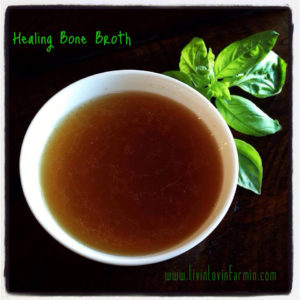 Bone broth
5-6 pounds of bones and/or chicken feet
2 whole head of garlic, peeled and smashed
3 large carrot, quartered
Heart of the celery, with all the leaves
1 onion, quartered
4 bay leaves
1 tablespoon salt
4 tablespoons apple cider vinegar
Fresh bunch of herbs. Parsley, thyme, oregano.
Enough water to cover bones by 2-3 inches. Roughly 7 quarts
 In a 12 quart stock pot, toss in your all your ingredients, top off with enough water to cover the bones by 2-3 inches.  Bring stock to a boil, covered for 30 minutes.  Skim off any impurities that have formed a scum. Replace lid and reduce heat to a low simmer for 24-36 hours. Allow to broth to cool and skim off any fat that has solidified on top.
Place your broth in fridge or freezer safe containers for future use.  Or… can the large batch for a pantry stock.
Canning beef or chicken stock
Prepare jars, lids and weighted gauge pressure canner according to manufacturer's instructions.
Reheat your skimmed cold broth, bring to a roiling boil. Carefully ladle into hot jars, leaving 1 inch headspace, wipe the rim of each jar with a vinegared (that's a word, right?) paper towel, center the lid on jar, screw on ring till just fingertip tight.  Process each pint for 20 minutes and quart for 25 with 10 pounds of pressure. * Makes 10 pints or 5 quarts
*I like to start a batch in the evening before I head to bed, cooking through the night and all the next day. When it's done I turn the pot off and strain the veggies and herbs. Finally, placing the stock in the fridge overnight, by the next morning my delicious nutritious broth is ready to can.  Simply skim off any fat and process.
**Be sure to adjust your pressure based on your altitude.
*If you're planning on eating the vegetables, I would wait till the last hour or so to add them.   Typically I feed mine to the chickens and turkeys as a treat.
My FAVORITE CANNER
I LOVE LOVE LOVE and highly recommend the All American Pressure Canner !  Affiliate Link.. Livin Lovin Farmin is a participant in the Amazon Services LLC Associates Program, an affiliate advertising program designed to provide a means for sites to earn advertising fees by advertising and linking to Amazon.com.
Other great posts from Millhorn Farmstead