Raw Lemon Coconut Protein Balls
Raw lemon coconut protein balls are the prefect trick to healthy grab and go snack. I love to pop them in the freezer and grab them on the way out the door.
This post may contain affiliate links. By purchasing through these links I may make a small commission at no additional cost to you. 
The mad rush to get through harvest is over, thank goodness!  Now with the crazy Holiday season just around the corner, it time to start  stocking up the freezer with some simple grab and go snacks and meals for the family.  Whether its a  lunch snack for the kiddos, a post workout pick-me-up or just a quick bite in between meetings and moving farming equipment,  I need something healthy, quick and easy to grab for myself and my  busy family on the go.   These raw protein packed coconut lemon balls are just the trick.  The use of  antioxidant rich essential oils (EO), amino acid packed dates and heart healthy raw cashews, makes this recipe  one of my favorites Paleo snacks to make.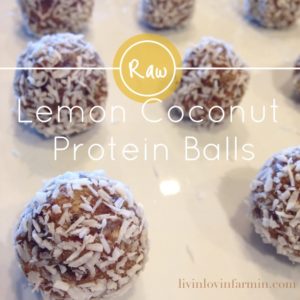 The addition of the lemon essential oil not only gives these protein packed bites a solid yet not-overwhelming taste of lemon but also a easy way of getting immune boosting antioxidants, which is vital this time of year. I have also used Lemongrass instead of  the lemon, which my kids love!  And orange EO would  be delish as well!
RAW LEMON COCONUT PALEO PROTEIN BALLS
1 cup raw cashews
1 cup soaked dates
1/2 unsweetened coconut
1 teaspoon vanilla
6 drops pure lemon essential oil *see note
In a glass measuring cup, add 1 cup of dates and cover with room temperature water, allowing dates to soak for 20 minutes.
In a food processor or blender such as a Ninja, add 1 cup raw cashews and blend until and mealy flour is achieved, being careful not to blend until a butter is made.
Add the soaked dates, vanilla, coconut and essential oil to the blender.
Blend on high until a thick dough is formed, about 1 minute.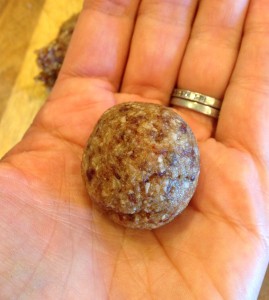 Roll small pieces of the dough in the palm of your hands until it forms a ball.
Roll the ball into unsweetened coconut.  This is an excellent job for the kiddos. My three year is an excellent help in the kitchen!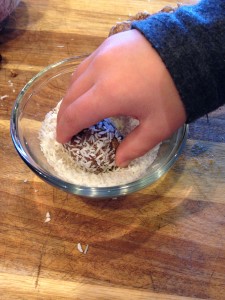 Plate and serve.
*Quick tip… Pop 3 or 4 into individual  freezer bags for a protein packed treat in the kiddos lunch box or a easy snack on the go.  I LOVE these bags for kids lunch snacks!
**When ingesting a Essential Oil, please make sure they are in pure form and for internal use. I do not recommend using just  any Essential oil internally, as you can not guarantee the efficacy of them. Many essential are distilled with chemical solvents and should NOT be taken internally.
Check out more of livinlovinfarmin's featured post.