Every year for Valentine's Day I make my husband the same meal. Fillet Oscar with hollandaise, avocado and lime marinated shrimp, wedge salad with homemade blue cheese and chocolate truffles. What can I say, I'm predictable!  This year I'm going to toss it up a bit and make him Smoked Chocolate Salted Truffles, see how spontaneous I am?  Seriously, how delicious does that sound?  A couple months ago I became obsessed with the Smoked Chocolate chips I received as a add-on in my Full circle weekly drop box. I've been tinkering with recipes for them ever since, however, these truffles are for sure my favorite.  The sweet subtle smokiness is a perfect combination with the salted cocoa powder, add in a mouth watering creamy dark chocolate ganache and you've got a decadent chocolate truffle!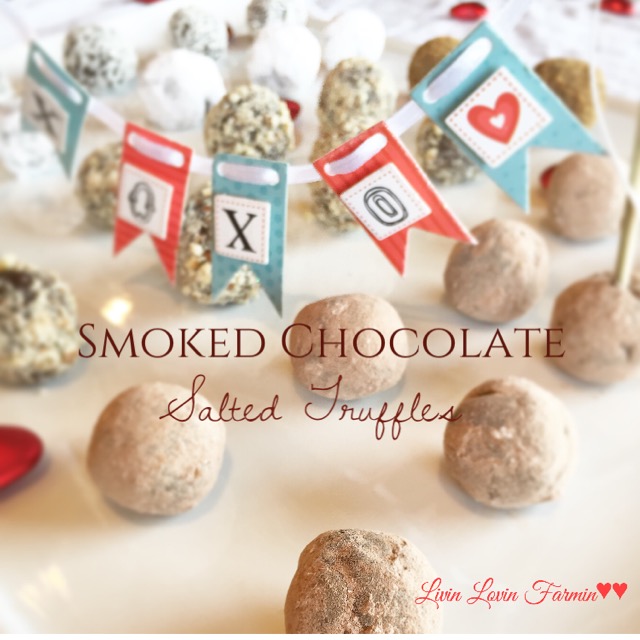 Smoked Chocolate Truffles
Ingredients
1/4 cup + 1 tablespoons Smoked chocolate chips
2 cups or 1 pound dark chocolate finely chopped, set aside in glass bowl.
1 cup cream
1/2 teaspoon vanilla extract
*Salted Cocoa Coating
1/2 cup Cocoa powder
1/4 teaspoon pink salt, powdered. *see note
2 Tablespoons powdered sugar
Instructions
Start out by making a ganache; Heat cream over medium heat until it just boils.
Carefully pour over the chopped chocolate, stir well until all the chocolate has melted. Add in vanilla, stirring until just until combined. Refrigerate for 45-60 minutes.
Remove from the fridge.  Using a melon baller, make small balls of the chocolate. Place on a parchment lined baking sheet. Once all the chocolate is made into balls return back to the refrigerator for 30 minutes.
Remove from the refrigerator, using the palms of your hands, roll chocolate into round balls. Lastly, roll the balls into the salted cocoa coating and place on a serving tray.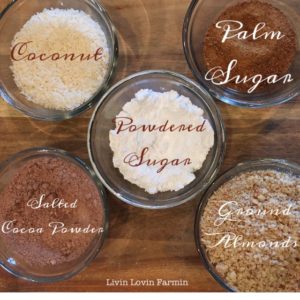 Feel free to make a combination of topping to roll the chocolate truffles in.  A few of my alternative favorites are shredded unsweetened coconut, palm sugar and  powder sugar.
You can refrigerate these until you're ready to serve them. They will last for over a week in the refrigerator but good luck trying to keep them that long.
Makes approximately 4 dozen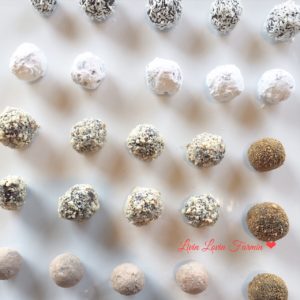 More post from LivinLovinFarmin
Livin Lovin Farmin is a participant in the Amazon Services LLC Associates Program, an affiliate advertising program designed to provide a means for sites to earn advertising fees by advertising and linking to Amazon.com.

Want all of your organic gmo-free groceries shipped FREE to your door… for wholesale price?  Check out thrive! Affiliate link