Canning Enchilada Verde
With fall comes green tomatoes.  While it's always bittersweet to see a bunch of green tomatoes left in the garden, It's also great way to step out of the ordinary red tomatoes recipes, so don't let them go to waste!  Green tomatoes are excellent to eat.   Their soft, thin skin requires zero peeling and their firm texture is great for salsas and frying.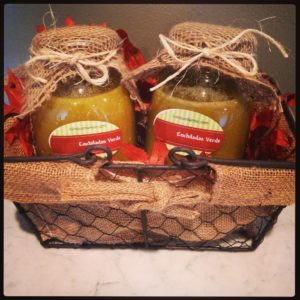 Green Tomato Glory
Every year, the frost comes before the tomatoes are done ripening, leaving me with a garage full of green tomatoes.  So what's a homestead to do with nearly 100 pounds of green tomatoes?  Enchiladas Verde!  This recipe is quite simple, eliminating the most of the prep work that comes with canning tomatoes.  Due to the thin skin on the green tomatoes, there is no need to blanch or peel them.  Making this sauce ready to can in just over 1 hour.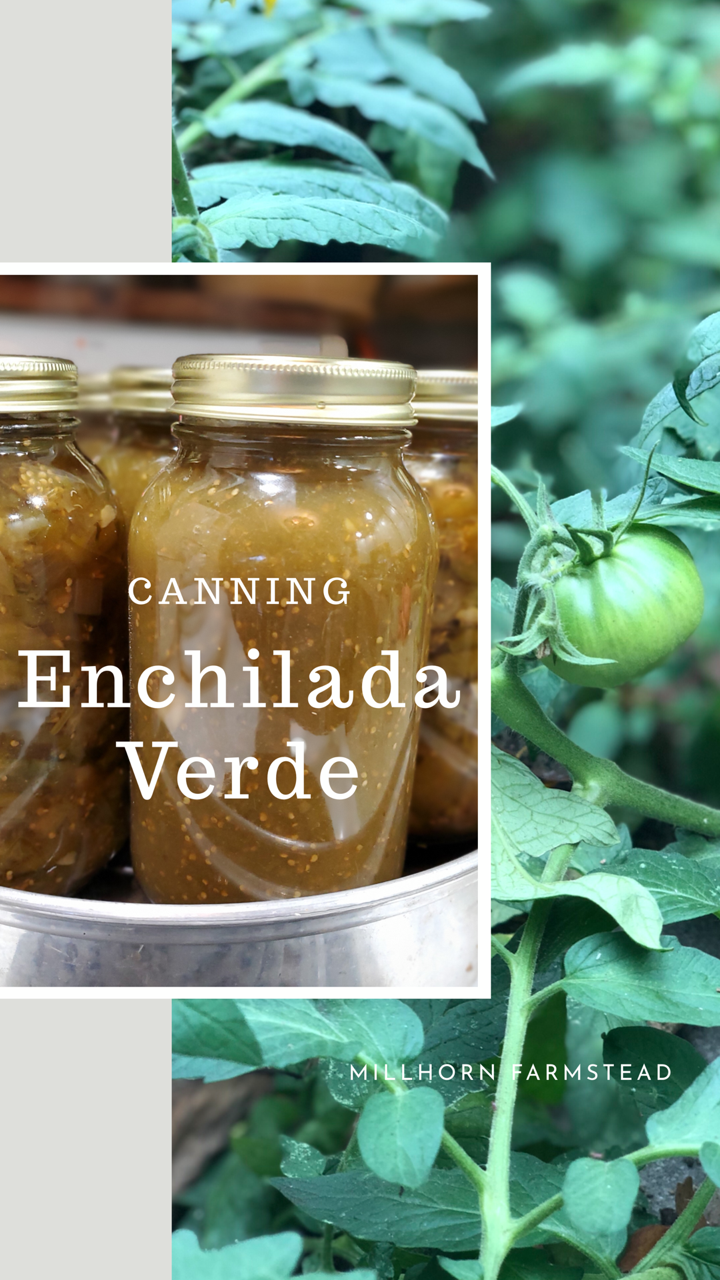 Canning Enchiladas Verde Sauce * Green Tomatoes
Ingredients
30 pounds green tomatoes to make 8 quarts finely diced/pureed
4 cloves garlic
5-8 poblano/Anaheim peppers *see note
5 medium onions
2 ½ cups white vinegar
3 tablespoons canning salt
1 tablespoon black pepper
2 ½ Tablespoon oregano
2 Tablespoons cumin
*1/4 cup cream cheese* SEE NOTE
Instructions
Prepare jars, lids and water bath canner, according to your manufacture directions.
Preheat oven to broil.
Working in batches, wash and cut off any blemishes on the green tomatoes, cut in half and place cut side up on a baking sheet. Add diced onions, garlic and peppers. Broil until soft and brown. Remove from the oven and allow to cool to the touch. Transfer roasted tomato mix into large food processor( I use a Ninja) until nicely pureed, dumping each batch in a 12 quart stock pot. Continue until you have made 8 quarts of finely diced tomato puree. Repeat the process with onions, garlic cloves and peppers until finely chopped.
Add the remaining ingredients excluding THE CREAM CHEESE, to the stockpot; bring to a boil over med-high heat for 45 minutes to 1 hour.
Carefully ladle hot sauce into hot jars, leaving ½ inch headspace, wipe the rims clean, place lids and rings on and water bath can for 25 minutes for pints and 30 minutes for quarts.
Prepare The Jars
Prepare jars, lids and water bath canner, according to your manufacture directions.
After 12-24 hours check seals, wipe clean, label and store for up to 1 year. Makes 8 quarts
NOTE.  When you're ready to consume your enchilada sauce, reheat on the stove for 15 minutes until a boil occurs.  Add in 1/4 cup of cream cheese per quart of sauce.  The cream cheese gives this sauce a super creamy texture and really adds body to the sauce.  Pour over enchiladas, heat in the oven and enjoy.
*You can safely add up to 8 peppers, swapping a few poblanos for jalapenos gives this a mighty kick, if you still want more heat, add in a 1-2 teaspoon chili powder

https://millhornfarmstead.com/garlic-dill-pickles-canning-recipe/
I highly recommend the Ball Elite Water Bath Canner.