Canning Peaches In Honey
Home canned peaches are my family's absolute favorite canned treat.   My kids will usually go through 1 to 2 jars per week, so I try to make sure to can at least 60 pounds of peaches in honey syrup to get us through the winter
When I was little, I used to help my grandma can peaches,  much like I can them with my kids.  Today, however instead of a sugar syrup I use a honey syrup.  I like using the honey for several reasons. First and foremost, it gives the peaches a bolder flavor. It also gives them a nice dark color.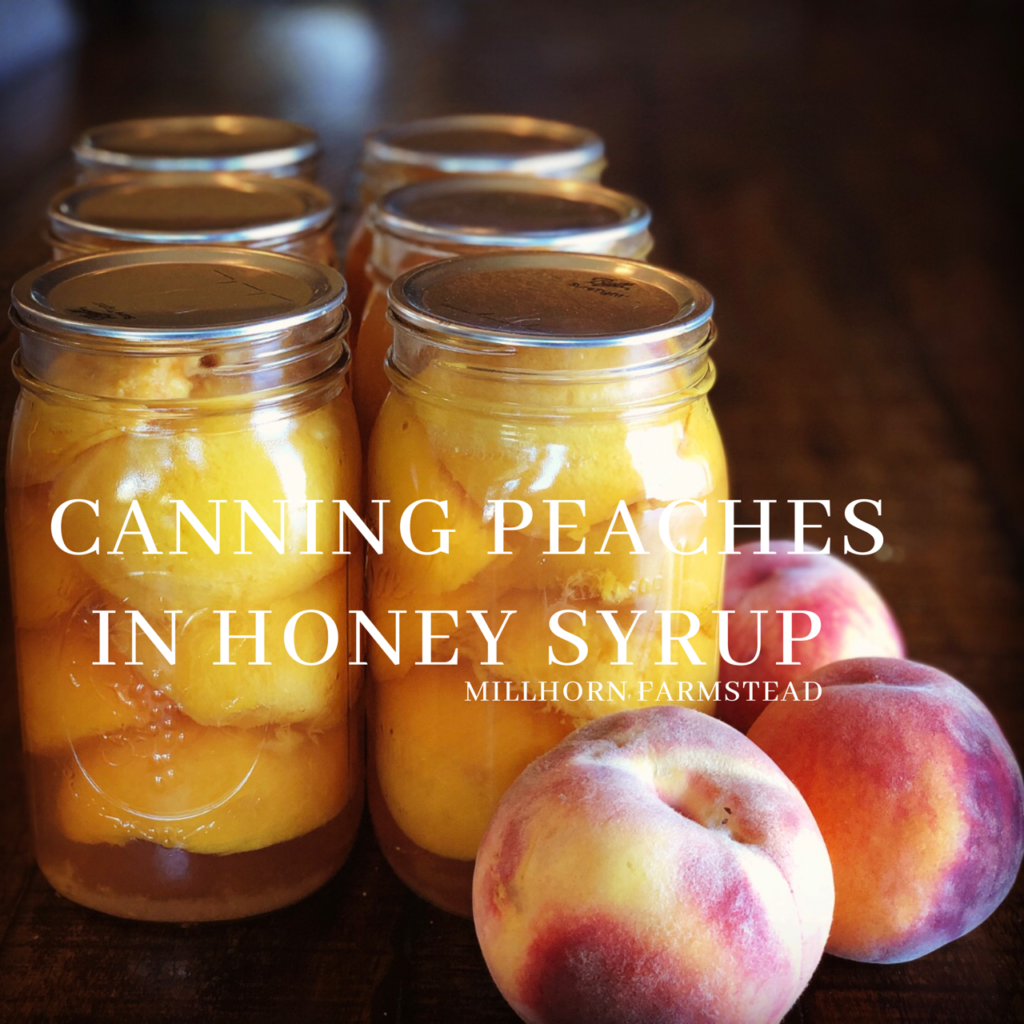 Grandmas Favorite Trick.
One of my favorite peach canning tricks, is one my grandmother taught me when I was young.  To get a super rich amber color,  toss in a peach pit in the bottom of every jar before adding your halved peeled peaches.  I have entered my peaches into the county fair several times and each time the color of my peaches stand out beautifully against the reigning sugar canned peaches.
*This post contains affiliate links.  By purchasing a product through these links, I may make a small commission at no additional cost to you.
A few years ago my cows broke into our orchard and ate every fruit tree we had planted. So I am stuck buying peaches.   Thankfully, I have an amazing milk customer who heads west (about three hours) to the fruit capital of our area and she brings me back several boxes every year.  Thanks Debbie!
Prep your water bath canner in accordance with your canning manual. I preferred to use the Ball Elite Water Bath canner as it has a glass lid and I can see what's going on in my pot.  It is also the heaviest water bath canner I have came across.  I originally those it because I had glass a cooktop and it was the only canner that would maintain a safe rolling boil.
While are peaches can be intimidating to some because they are afraid to peel them quickly blanching your peaches will make the skin slip right off
Canning Peaches in Honey
Ingredients
20lb free stone peaches
8 cups honey
32 cups
2 gallons water
1 TBSP lemon juice
*see note
Instructions
Bring a large kettle to a rolling boil.
With a sharp paring knife, simply slice a small  X in the skin, carefully drop into boiling water.
Once the skin begins to visually peel off,  the peaches ready to come out. Transfer the peach immediately to an ice water bath.
Peel peaches, placing them into a cold bowl of water with 1tbsp lemon juice.
Cut peaches in half.
Place 1 pit in the bottom of each jar, hot, clean jar. *optional
Cut peaches in half, with the cut side down, layer peaches until they firmly reach the rim of the jar.
Carefully top each jar with boiling syrup.
Release any air bubbles. Wipe rim. Place lid and ring. Twist to finger tight.
Once the canner is full, (mine fits 7 quarts). Place the lid on the canner. When a rolling boiling occurs, begin your timer.
NOTE.  I like to make two batches of syrup (16 cups of water, 4 cups honey) at a time.  This is enough for one full canner of quart jars.  While I wait for the canner to complete, I prep and heat the second batch of syrup.
Per the Ball Complete Canning Guide.  Water Bath quarts for 30 minutes.  Adding 5 minutes depending on elevation.
I typically can I one full, 20lb box of peaches at a time, which yields about 12-4 quarts.  I try to estimate three peaches per quart jar.