Homemade Flavored Salts
My sister loves salt! As in loves, loves, loves salt, however she recently got the big NO! from her naturopath and was lectured on how bad standard table salt is for the human body. So after researching salt, I have found that mineral packed pink Himalayan salt is not only lower in sodium but there are also has so many benefits to using a natural colored salt.   Such as… Promotes bone health, sinus health, vascular health, helps regulate blood sugars and blood pressure, aids in the absorption of food and supports a positive libido, just to name a few.  I strongly encourage you to switch your bland table salt over to Pink Himalayan Salt.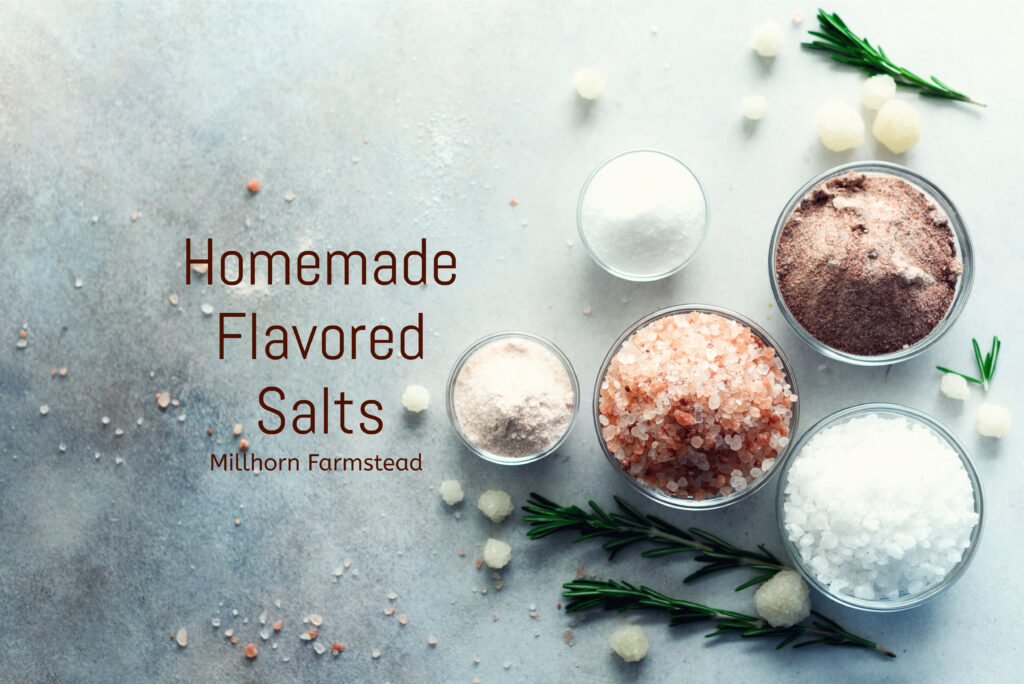 So this year for Christmas her homemade gift basket includes a variety of homemade flavored salts with organic herbs that came out of my garden.The first one I'm going to make for her is a lavender salt. At first the idea of combining lavender and salt sounds odd, however, it is so delicious on rotisserie meats such as chicken, brisket and pork. Not to mention its divine complements to lamb. It also goes great sprinkled on top of chocolate with a glass of red wine.
Here's what you need to make Homemade Flavored Salts;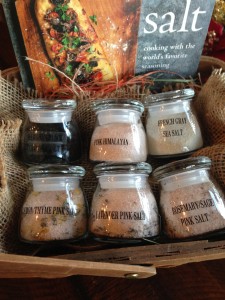 Lavender Flavored Salt
1/2 cup pink Himalayan salt or French gray salt.
1 teaspoon lavender flowers. I use English lavender.
4 ounce glass container with a snug lid.
Step 1. In a small food processor or blender such as a magic bullet add the lavender or herbs.  Pulse for about 10 seconds. Just to release the aroma. Alternatively you can use a mortar and pestle.
Step 2. Add your blended lavender (herbs) into a bowl with 1/2 cup salt, stirring just to combine.
Step 3. Store in a pretty glass jar with an airtight lid and label.
Rosemary Sage Salt
1/2 cup pink Himalayan salt
1 teaspoon equal parts dried rosemary and dried sage
Complete steps one through three as outlined above.
Lemon Thyme Salt
This is one of my favorites!   I always this on hand for poultry and pork but it is especially delicious on fish.
Zest of 1 lemon
1/2-1 teaspoon Thyme
1/2 cup pink salt
Zest one lemon. (Since you're using this outside of the lemon I strongly encourage you to buy organic for this.) Dry your lemon zest by heating a oven to 200°.  On a parchment lined baking sheet sprinkle the zest, place in the oven for roughly 45-60 minutes, watching VERY carefully because it will burn.
While your lemon is drying out place dried thyme in your magic bullet or mortar and pestle to release the aromas.
Once your lemon zest is thoroughly dried out, combine 1/2 teaspoon zest with 1/2 -1 a teaspoon dried thyme. Place in a bowl with half a cup of salt stirring just to combine.  Package in a airtight glass jar with a lid.
I am also going to include some French gray sea salt and Hawaiian black lava sea salt which is my favorite finishing salt.  You can buy the salts HERE.  And of course the book salt from Williams-Sonoma.com