Canning Homemade Bloody Mary Mix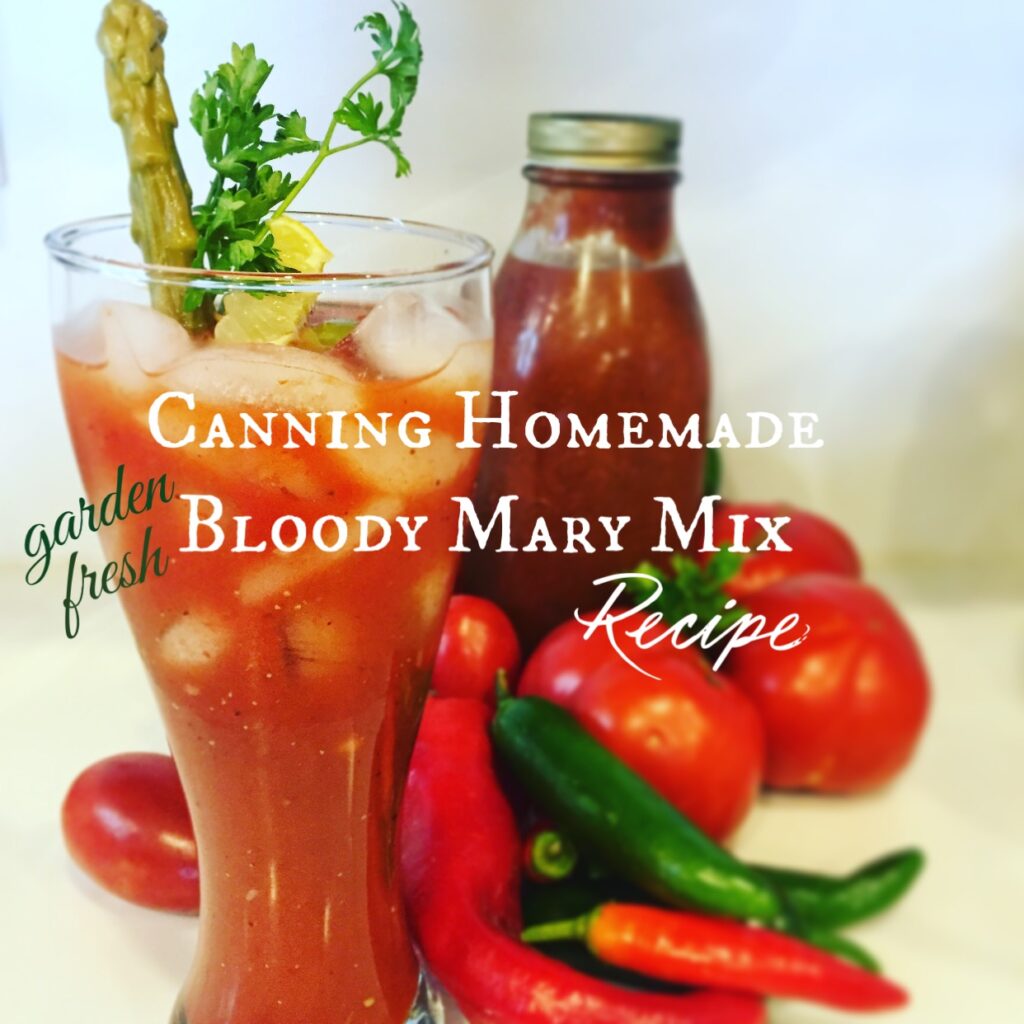 Each year I reserve 25 pounds of tomatoes from the garden to can up into Bloody Mary mix.  Typically I make a dozen quarts.  Saving half for my loot for the home bar and the other half to basket up for Christmas gifts. I toss the bloody mary jar in a nice basket, add some pickled asparagus, some homemade horseradish, a few lime's and a bottle of bacon vodka.  Yes, I said bacon vodka.  You see, us Keto folks like to stick the four main food groups.   Bacon, bacon fat, more Bacon and bacon vodka. Seriously if you have never tried it, I highly recommend it.
Homemade Bloody Mary Mix
Homemade Bloody Mary Mix
Ingredients
25lb garden fresh tomatoes
2 Tablespoons of lemon juice- per quart jar
2 Teaspoons hot sauce or more for taste, depending on personal spice preference
¼ cup A1 steak sauce
½ cup Worcestershire sauce
¼ cup grated horseradish
3 Tablespoons ground pepper
1 Teaspoon salt - per quart jar
Instructions
Preheat oven to broil.
Prepare water bath canner and lids according to the manufacturer's instructions.
Working in batches, wash and quarter tomatoes. Place on a baking sheet and broil until soft and lightly browned.
Remove from the oven and allow to cool a bit before transfering to a blender. Puree until smooth. Pour the pureed tomatoes into a large stock pot. Add the hot sauce, steak sauce, horseradish and pepper to the pot. Heat the sauce to rolling boil. Carefully add the boiling bloody mary mix to the to the hot, sanitized canning jars. Water bath can for 40 minutes. Be sure to adjust time based on altitude.
I LOVE these fancy canning jars. They are a bit more expensive than the Ball brand but they are so cute and make a really nice statement for a gift.

To drink, rim a large glass with lime or lemon and dip into salt (or a homemade bloody Mary mix rimmer)  Fill the glass half-full with ice, add one shot of bacon vodka (ok, maybe two)  and top off with your garnish with a dilly bean and/or pickled asparagus.

Drink and enjoy!