Few thing smell better then fresh homemade bread in the kitchen.   A smell quick to bring back emotions and memories,  almost as if Grandma herself was standing at the counter wearing an old ragged apron.
I love the simplicity of this recipe.  With the bread machine doing the majority of the work, it really only takes about 5 minutes of hands on time. Which makes the bread machine worth its weight in gold.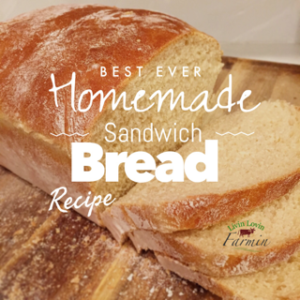 Super Easy Whole Wheat Sandwich Bread
Ingredients
WET INGREDIENTS
1⅓ cup warm raw milk or whey or coconut milk
3 Tablespoons honey
3 Tablespoons coconut oil or grass-fed butter *melted
DRY INGREDIENTS
3 ½ cup organic whole wheat flour
1 teaspoon salt
2 ¼ Teaspoon yeast
Instructions
 IF USING A BREAD MACHINE
Place the milkwhey, butter and honey in a heat safe Pyrex and warm in the microwave for 40 seconds (not to hot!  You don't want to kill your yeast) or just enough to melt the butter. *( Alternatively you could do this on the stove top in a sauce pan.)
 Pour the warm wet ingredients into the bread machine bowl, layer the dry in the order giving.
Turn on your bread machine and set to;  3 pound loaf and Whole Wheat.
Close the lid, press start and wait for the most delicious smell ever.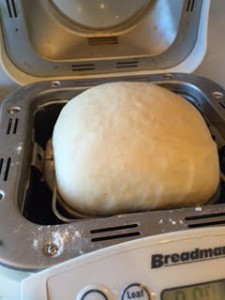 **IF ONLY USING A BREAD MACHINE TO RISE AND KNEAD THE BREAD  ..  I personally do not like the taste of bread cooked in a bread machine but I also don't have time to knead and rise the dough either, so I use the bread machine as the workhorse.  This allows me to make several batches at once.  When one loaf is done kneading, I pull it out and allow it to finish rising on the counter.  Then I start another batch. … INSTRUCTIONS.   Complete steps 1-3.   Then adjust your machine setting to Dough.  This should take roughly  90 minutes. When the machine is done kneading and heating take the dough out and knead it on a well floured counter.    Place in a greased/floured bread pan covering it with a flour sack for about 45 minute until it doubles in size.  Preheat oven to 350. Bake in the oven for 30 minutes on the middle rack, placing a pan of water on the bottom rack; This helps keep the bread moist.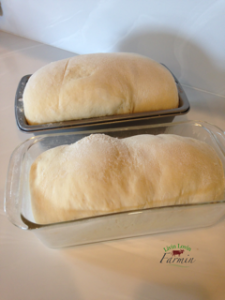 *Tip.. if you have extra whey from cheese making, not only is this recipe a great way to use it up but it is also makes the bread so fabulous and fluffy!! Simply substitute the  milk for 1 1/3 cups warm whey.

NO BREAD MACHINE INSTRUCTIONS.. If you don't have a bread machine and would like to bake this bread by hand, the instruction as follows. In a large glass mixing bowl, combine warm whey\milk, honey and melted butter together. Whisk well. Set aside.  In a stand mixer combine dry ingredients. Mix well. Switch to the dough hook.  Slowly add in wet mixture.  Mix on low until just combines, then increase speed to medium for 5 minutes.

Move the ball of dough into a well buttered bowl, cover with a flour sack and allow it to double in size. Punch down the dough and knead it for 5 minutes.  Form a loaf and place into a buttered floured loaf pan. I prefer THIS one. Preheat oven 350 degrees.  Let the dough raise once again.  Once it has doubled, bake for 30 minutes.

Once the bread is cool, slice and wrap to freeze. This bread freezes excellent and thaws quickly.
Thats it. Delicious. Homemade sandwich bread.  Did I mention that it freezes super awesome? Because it does!
I use THESE bread bags to wrap and freeze our bread.  They are quiet thick and I don't have to worry about freezer burn, they also are large enough for big loaves.  If you avoid plastic in your home, then try your hand at making linen bread bags by using THIS TUTORIAL by Attainable Sustainable.
More from Livin Lovin Farmin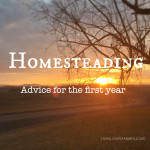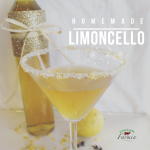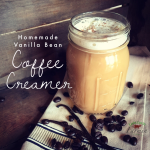 Livin Lovin Farmin is a participant in the Amazon Services LLC Associates Program, an affiliate advertising program designed to provide a means for sites to earn advertising fees by advertising and linking to Amazon.com.