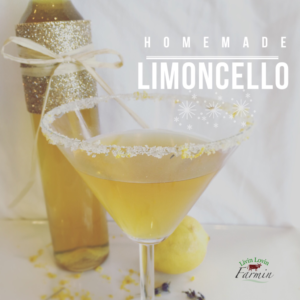 Remember all those lemons my
parents brought home from Arizona
?   Well besides
lemonade
for the kiddos, I decided to make some limoncello for this years homemade Christmas gifts for my siblings.  And of course..some extra for me. 🙂
The beauty with making limoncello is that there is no exact brewing time. I like to let mine seep for at least 4-6 weeks. However this time around, I made the limoncello, got pregnant and had to wait 9 whole months before trying it. Oh and let me tell you, if you have the will power to wait that long… Its Delish. It only gets better with age.
Ingredients
1 750ml vodka
Peels of 15 organic lemons
Clean glass gallon jar
Instructions
Pour the entire bottle of vodka into a 1 clean gallon glass jar.
Wash all the lemons very well. I highly recommend organic for this recipe, as you will be using the rinds.
Using a mandaline or sharp paring knife, carefully slice off all the yellow rind from the lemons. Being careful to not include to much pith, (the white part) as this is bitter and will result in a bitter tasting drink.
Add lemon peels to the gallon jar.
Cover and allow mixture to seep for a minimum of 4-6 weeks. 2 months is preferred.
2 MONTHS LATER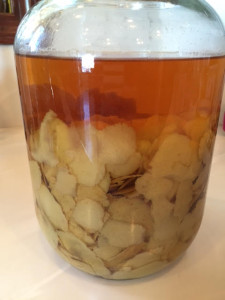 Simple syrup
1/2 – 1 cup organic sugar * see note
1 cups water.
Heat over medium flame until the sugar has dissolved.
Allow simple syrup to come to room temperature.
Once the limoncello is ready to bottle up, strain the lemon rinds from the vodka and return vodka to the gallon jar.  Add the simple syrup (recipe above) to the vodka.  Using a funnel bottle up the limoncello into air tight bottles.
**Note  If you like your cordials sweeter, then use a full 1 cup of sugar. If you're like me and lack a sweet tooth, then only use the 1/2 cup.  If your undecided but like to keep your options open, then add the full 1 cup of sugar to the simple syrup add accordingly as you go. If you like zero sweet, then omit the syrup all together and you will have lemon flavored booze.  Your welcome  🙂  There.  I think that should cover everyone.
The possibilities are endless with limoncello.  Enjoy this chilled cordial as a after dinner drink, with brunch or may fav, drizzle on sponge cake.  Seriously deliciously  l tell ya..
**  I use cheap vodka for my own limoncello because well,, I'm cheap.  However, if this is for a gift, or your pallet is more sophisticated then mine, then I would go for a Kettle one or Grey Goose.
Note.  Once the limoncello has "marinated", the lemons may turn a deep yellowy/brown color this is normal.
Check out these favorite posts..