HOMEMADE SCENTED CANDLES IN MASON JARS
This year I canned over 120 DOZEN jars of food from my garden.  I have lots and lots of mason jars.  You can say I'm obsessed with mason jars and jars alike. So naturally I want to share my obsession and included mason jars in my gift giving. And seriously, is there anything cuter then a candle in a mason jar?  I didn't think so!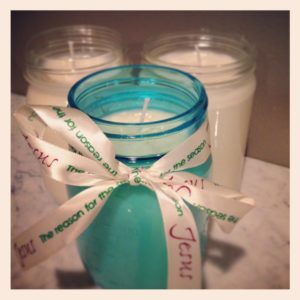 Here's what you need;
Makes 1 candle
6-7 inch wick
1 pound soy flakes wax
1 ounce fragrance oil
Mason jar
…..
Kettle
4 cup Pyrex
Stir sticks, (Popsicle stick or skewer)
Before you begin prepare all your ingredients pots pans and supplies and plug-in your hot glue gun.
Measure out 4 cups of soy wax flakes (1 pound) and place in a heatproof Pyrex, one that you don't mind saving only for candle or soap making. They do make special candle making kettles with a spout, however they cost twice as much as Pyrex, so I just use the Pyrex.  (And if you're impatient like I am, then you can always pop it in the microwave.) I found mine at hobby lobby for $7.99 with 30% off.
Place your Pyrex over a kettle of water (as if you were doing a double boiler) heat on low to medium heat and allow your wax to melt slowly. Being careful to not let the water come to a boil and splash into your wax.  Stir frequently with either a Popsicle stick or a chopstick.
While your wax melts, glue the wicks to the bottom of your jar using a hot glue gun.  This will hold your wick in place while you pour the hot wax into the jar.
Roll the top of the wick around a pencil or skewer to help keep the wick centered.
As soon as you're wax is fully melted, take it off the heat and pour in your scented oil. Today I'm using Hansel and Gretel's house and it smells just like Christmas. Stir just until combined.  Carefully pour the melted was into your prepared candle jar.  Adjust the wick, making sure it is centered in the middle of the candle.  Let the hot candle sit overnight before packaging.  Wrap with a ribbon and your gift is done!
Check out more from Livin Lovin Farmin