It may sound silly but one of my favorite gifts to give and receive is bowl fillers. I love them!  Williams Sonoma and Crate and Barrel have especially awesome ones, for a not-so-awesome price!  So for day 6 were making homemade Mod Podged glass ornament bowl fillers. Using a favorite book, verse or child's artwork will personalize these for years to come.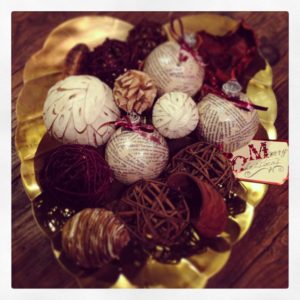 Here's what you need:
Glitter Mod Podge (MP)
A foam brush for applying MP
Clear Glass ornaments
Pages from a book, artwork or newspaper
Remember making papier-mâché as a child ? This is your grown-up papier-mâché project!
Begin by tearing strips of your paper. You don't want your strips any larger than half an inch wide and 3 inches long. After you've made a hefty stack of strips set them aside.
Remove the top from the glass ornament, set aside.
 Using the foam brush apply a generous layer of Mod Podge on half of the ornament. Firmly press 1 strip on the Mod Podged ornament. Topcoat the strip of paper with MP, making sure the entire strip of paper is covered well with the MP.  Repeat until the entire ornament is covered with strips of paper and coated with modpodge. Allow the MP to dry for a 1/2  hour and then apply one more coat using the foam brush.
After you apply the second coat (while still wet) dip your finger in the MP and slowly roll your finger around on the paper to smooth it out making sure each strip is flattened and the air bubbles are removed. Leaving some wrinkles will enhance your ornament and give it some character.
Place on a piece of parchment paper and allow to dry overnight.
When your ornaments fully dry replace the top and tie with a ribbon!