Coconut Creamsicle sugar scrubs with vitamin E!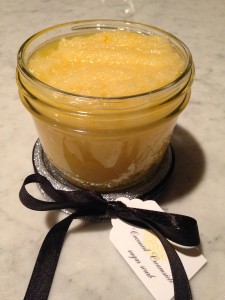 With winter in its prime, dry skin season is upon us. This is a perfect gift to beat the itchy dry skin, or perhaps, the itchy sunburn from a recent trip to Belize.. Just sayin.   Either way, pair this body scrub with a few candles in a basket, and you got yourself a gift!
Coconut Creamsicle Sugar scrub
½ – ¾ Cups melted coconut oil
2 Tablespoons vitamin E oil
Zest of 1 mandarin orange
1 Tablespoon of fresh squeezed mandarin orange (about ½ the orange)
1 1/2 Tablespoons vanilla extract
In a glass mixing bowl add 2 cups of white granulated sugar and the zest of one mandarin orange.  Using a wire whisk, combine until well blended and no clumps are visible.  Carefully pour in ½ cup of melted coconut oil, reserving the remaining ¼ cup.  Add in orange juice, vanilla and vitamin E oil.  Whisk together until well combined.  Add in remaining coconut oil until desired constancy.  Makes 1 pint
Package in a small 1/2 pint jar or jelly jar and tie with a bow.
*Disclaimer… Folks, do not slather your feet with this in the shower! End of Public service announcement.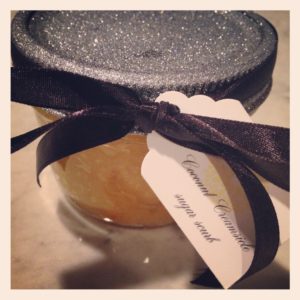 For more homemade DIY Homestead, check out these great posts