Homemade Breakfast Bars
My favorite breakfast on the go is hands down the Larabar!  (If I could keep bacon in my purse, than it would be number one for sure but I can't.) Besides being gluten free, they only have 8 or less ingredients. If the LaraBar only has a max of 8 ingredients and delicious, then why are the typical lunch box granola bars filled with so much junk?  This brings me back to my original venture of feeding my family healthy, whole foods that my kids love!  So today I'm making a bunch of homemade breakfast bars and stocking up.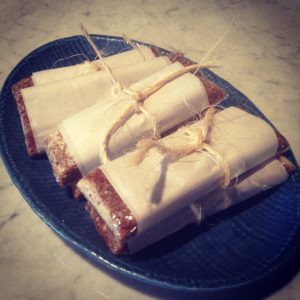 Breakfast Bar Recipe
Ingredients
1 cup whole raw almonds
1 cup almond meal
1 cup soaked dates*
1 cup organic dried apricots.
Instructions
*Cover 1 cup of pitted dates with water, set aside for 30 minutes. This allows the dates to soften, which make a smooth date paste.
In a food processor or blender (I use a Ninja BL660 Professional Blender with Single Serve)
Blend the soaked dates and apricots until a paste is made. Add in whole almonds. Blend until you get a granola like constituency, you'll want it a bit chunky. Add the almond and blend until you get a dough-like ball.
Place your dough on an almond meal floured piece of parchment and roll into a flat log. Cut and wrap the bars. Place in an airtight container. Depending on the size you prefer your bars; this recipe will make approx. 8 bars. I couldn't tell you how long they last in the pantry, because mine are gone within a week.
Feel free to double or triple your recipe.
Alternative flavors.
Feel to swap out the whole almonds and apricots with any other seeds, nuts and dried fruits, just make sure your total is a 50/50 ratio. I store my breakfast bars it the freezer and just toss in my kids lunch or my purse.  By the time we're ready for a quick snack, they have defrosted and are ready to eat.
 *I use the almond meal from Trader Joes as it is the most economical form of almonds, at almost $2.00 less per pound then whole almonds.
I LOVE my Ninja blender.  I have used this for butter making, nut crushing and of course, raw milk smoothies.