Is organic dairy making you sick?
The FDA has recently announced the acceptance of Carrageenan in organically labeled food. Carrageenan is additive used as thickening and stabilizing agent typically found in organic dairy. Carrageenan is a polysaccharide that induces and causes inflammation in the body. For those of us with an autoimmune disease, this is bad news.
Another great reason to buy raw dairy or simply put a dairy cow in your backyard, ok, just kidding, kind of…
If you're freaked out and need a little peace of mind about the use of raw dairy, try pasteurizing it at home yourself. It is super simple and you can choose your depth of pasteurization.
Here's how;
Pour raw milk into a nonreactive, non-aluminum pot and place over medium heat. Slowly heat milk to 145° stirring occasionally to make sure it is evenly heated. Hold the temperature at 145° for exactly 30 minutes. Keeping it longer than 30 minutes could result in destroying the milks protein and keeping it less than 30 minutes may not destroy any potential pathogens.
After 30 minutes, careful pour the milk into a separate pot and set it in a sink full ice water, stirring occasionally until the milks temperature drops down to 40°.
Did you know… 145° will ensure any potential pathogenic bacteria is destroyed, however,  commercial dairies heat their milk to 191° which kills every organism in the milk, including the beneficial ones. If you do not care about the beneficial flora or making any home dairy products, such as, yogurt, cheese or sour cream, then you may too pasteurize it to 191° as well.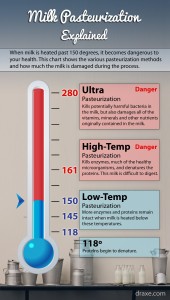 Even though I am a big advocate for Raw milk, as it contains natural beneficial flora and enzymes, sometimes having peace of mind in food consumption has a greater impact.
TIP..  Find a reputable local farmer near you to buy raw milk. Some Farmer's will allow you to inspect their milking facilities however; others practice high bio-security and do not let visitors on the premises, as potential bacteria can be spread by foot.