I just want some babies!!  That's all!.  Just a few sweet little calves to run around and lick my face. That's all I want. Ok need!   I NEED me some baby calves to lick my face.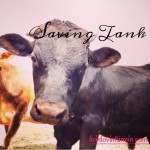 After four failed attempts to artificial insemination my two dairy cows, at $150.00 each time, I threw in the towel and rented a bull.  I named him Tank, but he goes by Hank.  Sometimes, Hank the Tank, and sometimes Hanky Panky.  Yes, I named a cow that doesn't even belong to me, because I'm crazy like that.  Tank has done a excellent job at "servicing" the ladies and by the grace of God, they are both hopefully pregnant.  He has been an exceptionally nice bull to keep in the pasture and to be honest, I was terrified to have a bull on the farm, especially around my children.  Tank is the exception.  He's gentle and could really care less about anything other then his hay and his ladies. Tanks a "on my terms" type of dud.  He's a bit timid and is not overly social and has yet to follow me around and kiss my face.   However, over the last 3 heat cycles (because that's how you calculate time when your baby obsessed) I have fallen in love with this bull (enter head thump here).  I didn't mean to.  It just happened.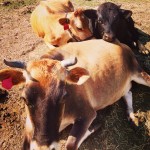 Earlier this week I got word from Tanks owner that he is scheduled to go to butcher.  Tank will become hamburger on September 17th.   My heart is crushed.  I would have expected this if he was a beef cow but he's a dairy bull and a good one at that! Around here in beef country, a good daily bull is hard to come by.  The owners plan is to butcher Tank and replace him with a new bull next spring as they simple don't want to pay for feed or manage Tank through the winter.  But there's just something about this  big lug that just melts me.   He just fits!  He may have two wives but he just fits!
So I bought him!  Yup.. I bought Tank the bull and saved him from becoming hamburger, for the ripe price of $1650.00.   So now we have a bull and two ladies on the farm. I have thought about this scenario in many difference ways.   Unfortunately, being this out far out in the country and having my nearest AI tech  2 hours away, is just not reliable or economical.  And as a homesteader, having a way to continue to reproduce calves is priceless. Having a bull on hand will take us one step closer to self sufficiency.  Hopefully, I will able to rent him out from time to time to "earn his keep". But for now, I'm feeling blessed to be able to scratch his cute face everyday, and I'm certain he is too.
Welcome to the farm Tank!