Homemade Livestock Fly Spray
Have you ever read the back of a livestock fly spray bottle?  It's terrifying.  I don't even want it in my barn, let alone on my cows that produce food for my family and I. However, having pesky, annoying flies on animals, especially when your sitting half way under them to milk, is not a option.  So obviously I needed to come up with a more natural alternative.  Essential oils to the rescue!   This is my second summer using EO's for fly control and overall, I am happy with it.  I do have to spray it on more often, but I'm ok with that considering the alternative is a nasty chemical that should be avoided at all costs. I love that I have a solution for flies that is safe for both my kids and I to spray on the cows and calves.  
"Maybe harmful if swallowed, inhaled or absorbed through the skin.  Avoid inhaling vapors or spray mist. Avoid contact with skin eyes and clothing.  Wash thoroughly with soap and water after handling and before drinking, chewing gum or tobacco. Remove contaminated clothing.  Wash all clothing before reuse.  Foods or food processing equipment should be removed or covered during treatment. Do not apply while food processing is underway. All food processing services should be thoroughly cleaned before using. Do not apply over uncovered milk or food products. Any exposed utensils or food handling surfaces should be thoroughly cleaned before use. Facilities and equipment and federally inspected meat and poultry plants must be washed with affective cleaning compound followed by a potable water rinse after spraying. Vacate premises after treatment."
"If swallowed call the poison control center or doctor immediately for treatment advice.
If inhaled, move person to fresh air.  If person is not breathing, call 911 or an ambulance and give artificial respiration preferably mouth-to-mouth if possible."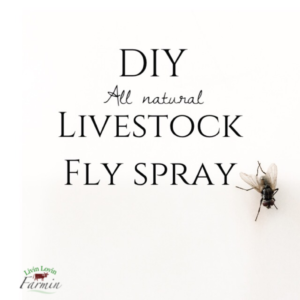 I use Young Living essential oils for this recipe.  These are the oils that I trust for MY livestock and MY family.  Since I am spraying this fly spray on my dairy cows and I am pregnant, making sure I use the purest of oils is extremely important to me.
I came into this recipe after MUCH trial and error!! I've made all the recipes folks. All of them.  I've tried all the "natural" repellants.  I've made several recipes that call for vinegar in them.  Let me tell you, I've tried every single vinegar/oil/soap recipe and the one that worked the worse was a Apple Cider Vinegar one.  Seriously, I think its a fly attractant.  The white vinegar does have a much improved performance, however mid-way through milking, I found I needed to reapply the spray.
Homemade Fly Spray. Safe for you, your family and your livestock.
Homemade Livestock Fly Spray
Ingredients
20 Drops Citronella
20 Drops Clove
20 Drops Thyme or Rosemary
20 Drops Peppermint
1/4 cup Food grade Glycerin
Instructions
In a 16oz spray bottle add the Essential Oils and glycerin and top it off with water. Spray as needed.
I spray my cows with Homemade Fly Spray before every milking.  This will keep the flies at bay and save me from trying to milk a irritated cow.  I choose to double the recipe and make up a big batch using a 32ounce spray bottle.  During the heavy summer months, this will typically last me for 2 weeks.  Which isn't bad, considering I have 6 cows that I'm spraying.
Why this combination works and a breakdown of the benefits of the these pest deterring oils.
Citronella – Well known for its anti-mosquitos properties, citronella also works incredible well for other flying pests.
Peppermint –  Works as natural pest deterrent not only for flies, mosquitos but also for mice and spiders. It is also a heavy hitter in the garden and also works as a natural insecticide for squash bugs, aphids, beetles, ants, flies and fleas.
Clove – Do you remember grandma's old trick of putting cloves into a apple and setting it on the picnic table to keep the flies and mosquitos away from the food?  That "old" trick still works because the smell of clove is highly hated by flies. Clove oil is great for more then just flies, its also an excellent immune booster and a key component in the highly sought after Thieves oil. It was used in the 15th century by the original "four Thieves" to boost the immune system and keep the plague away.
Rosemary – Rosemary is a time honored herb, praised for its antioxidant properties and applied topically it's said to treat muscle aches, improve circulation and arthritis. This potent herb is also an excellent resource for pest control not only in the barn but in the garden, working to deter cabbage loving larvae, like caterpillars.
Glycerin – Glycerin is simple a "host" or a emulsifier for the oils.  I use food grade glycerin from Azure Standard, but you can also get it from Amazon HERE. Considering I also use this in homemade cosmetic's and as a key component to teat wash its a excellent essential to have for the DIYer.
The price to make up a 16oz batch comes out to $5.80.  That is an incredible price for natural, chemical free fly spray.  Considering the toxic store brand cost twice that!
**Prices current as of Dec. 2014
Want more ways to live a chemical free life? Check out these posts.