Did you know that liver packs more nutrients ounce for ounce then any other food source? Its a vital source of amino acids and important nutrients such as niacin, Vitamin A, D, E, K, B12 and folic acid.  Besides its immune and brain boosting attributes it also has a magnificent anti-fatigue factor.  There's a reason liver was named the original super-food. Grandma knew what she was talking about when she said "eat your liver!"   Which is why every year when we butcher a grassfed steer, sometimes two, I ALWAYS save the liver. Not to torture my family but to make homemade liver pills.  Since no one in our house is too keen on the meaty taste of good ole fashioned beef liver, making it into pills the next best option.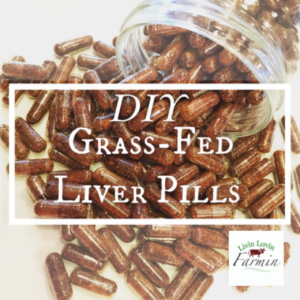 Making liver pills is very simple.  It's not the best smelling thing you'll ever make but it is one of the most important.  PERK.. One grassfed liver made into pills will last you all year round.
If you don't want to make a entire liver into pills or you don't have access to a full liver, have your local butcher cut you the amount your looking for.  Most butchers are happy to oblige.  Because this power packed organ is often neglected and considered a "thrifty cut", a pound of liver should cost you around $3.00 depending on your local market.  If your lucky enough to know someone that butchers a grassfed beef, don't be afraid to ask them to save the liver for you.  Chances are, they will.
Ingredients
Grass-fed Liver
Size 00 gel capsules
Food Dehydrator
Pill Maker
Instructions
Fully defrost the liver.
Slice liver into roughly 2x2 inch chunks.
Place liver in a food colander, set in the sink and allow the excess blood to drain out for approximately an hour.
Working in batches, use a high powered blender or food processor, puree the liver until its reached "smoothie" consistency.
Line the trays of the dehydrator with wax paper. *see note.
Carefully pour the pureed liver onto the lined trays, smoothing it out as you pour. Make sure the thickness is no thicker then 1/8-1/4 inch. The thicker the puree, the longer it will take to dry out.
Dehydrate the liver at about 170 degrees for 36-48 hours or until the liver sheets are crispy. This is curscial. The liver must be dried out thoroughly! This is an excellent to utilize a garage. As liver is, well, kinda stinky.
Once the liver is crispy, remove from the trays and place in a high powered food processor or blender, * see note, grind the liver until a fine grain powder is formed.
Carefully transfer the powdered liver it a bowl or pyrex.
Using the Pill Maker.
Place the base of the pill make on a flat plate. Fill the base with the large part of the gel capsules and the top with the smaller half of the gel capsules.
Pour powder in to the base and scrape off any extra with the enclosed "spread card".
Place the top on the pill maker and press down firmly. The capsules will automatically join together.
Tip upside down and dispense homemade liver pills. Repeat.
Store the liver pills in a airtight container in a cool place.  I choose to store mine in the freezer and take 2 daily for added nutrients and a boost of natural of energy.
**Notes. It is absolutely imperative that the liver dehydrates fully.  If it still sticky in any spot, continue with the drying process until crispy.
While you can use any food dehydrator, THIS one is absolutely perfect and will do an excellent no-fuss job.
I buy THIS pill maker and THESE gelatin capsules, the capsules come in a vegan option also,  but assuming that your making raw liver pills, I'm going to go out on a limb and say that's not an issue.
Livin Lovin Farmin is a participant in the Amazon Services LLC Associates Program, an affiliate advertising program designed to provide a means for sites to earn advertising fees by advertising and linking to Amazon.com.