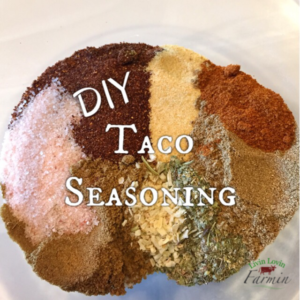 My family could live on tacos.  Seriously, its my go to meal.  Loaded with garden fresh veggies and grass-fed beef from the pasture, tacos really couldn't get any easier.  Taco soup, taco salad, taco stuffed bell peppers, crisp tacos, soft tacos… are you sick of me Bubba Gumping you yet?  Anyways, back to my point..   Like most prepackaged seasoning mixes, they're loaded with additives, unnecessary thickeners and preservatives.  However, like my Homemade Ranch Mix, my taco seasoning can also be whipped up in a matter of minutes. I like to double or triple the recipe, that way I have enough premade for the entire year.  The best part is, besides this recipe being seriously healthier, is only cost pennies to make and uses ingredients you more then likely already have in your pantry.
Homemade Taco Seasoning
Ingredients
8 Tablespoons Dried Diced Onion
4 Teaspoons Garlic Powder
4 Teaspoons Chili Powder
4 Teaspoons Coriander
5 Teaspoons Cumin
3 Tablespoon Paprika
2 Teaspoons Italian Seasoning
1 Teaspoon Cayenne Pepper
½ Teaspoon Turmeric
3 Teaspoons Salt
Instructions
Combine all ingrediants into a glass mixing bowl.
Mix well.
Store in a airtight container.
Makes 1 cup, approx 5 servings
Add three (3) tablespoon  of the seasoning per one (1) pound of meat. I like to store my seasoning mixes in these super cute airtight spice jars.
*While  I am fully aware that Turmeric is not customarily in taco seasoning, this Indian spice is worth its weight in gold.  The health benefits are extraordinaire, so I put it in every possible dish I can. .
 Livin Lovin Farmin is a participant in the Amazon Services LLC Associates Program, an affiliate advertising program designed to provide a means for sites to earn advertising fees by advertising and linking to Amazon.com.