My brother has recently found a love of cooking and barbecuing.  So naturally, whenever I'm in the kitchen, he's lurks over my shoulder curious about how I cook and prepare food for my family. So this year as part of his Christmas gift,  I'm making him a homemade barbecue all-purpose dry rub.  Packed in a cool little cooler with some grass fed steaks, a tool or two and of course some ice cold beers, you've got yourself a badass bbq gift basket.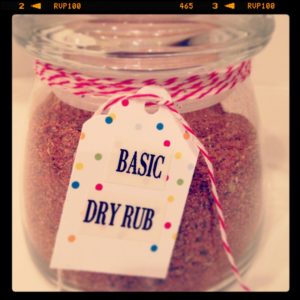 Ingredients;
1/2 cup chili powder
1/4 cup brown sugar
1/4 cup of salt.
2 tablespoons spoons black pepper,
2 tablespoons smoked paprika
2 teaspoons cumin
2 teaspoons oregano
1 tablespoon garlic powder
Add all the ingredients together in a bowl using a fork to combine. Carefully transfer your spices into a mason jar with a lid or a fancy little container like THIS  (affialiate) and labeled Basic Dry Rub.
If you would like some more heat add in 1 teaspoon of cayenne pepper.
In a dark, dry pantry, there's no reason this rub wont last over a year but good luck keeping it that long!
To use;
On a thawed out dry piece of meat, rub a 1/4 cup of the dry rub onto the meat and/or under the skin, massaging into the meat. (And sorry there was no other way to say that).  Roast, grill, or BBQ.
Try it out on pork ribs beef or even fish!

Check out more of livinlovinfarmin's homemade gift ideas..