Homemade Ranch Mix
I love ranch!  Seriously, I love it so much its embarrassing ,.. for my family.  Its a host for all things savory and not just veggies, that's a given.  Pork chops, kale or chard chips, homemade pizza, steak, roasted potatoes, even a scoop or two added to my favorite coleslaw recipe. You name it and I've probably smothered it in ranch. Homemade ranch to be specific.  Let me tell ya, there's nothing worse then bad ranch.  Store bought, shelf stable ranch? BARF!  That's not ranch folks.  I'm not exactly sure what it is, but ranch its not.  Let me tell you a secret… Homemade ranch is easy peasy and only cost pennies.  So why spend $3.00 on a packet of ranch mix when you can make it at home on the cheap, anytime, with the ingredients you already have?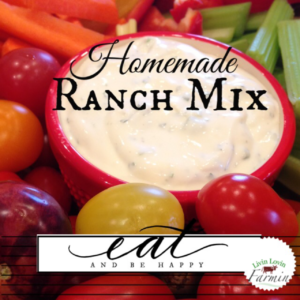 Homemade Ranch
Ingredients

5 Tablespoons Dried Parsley
3 Tablespoons Dried Onion Flakes
1.5 Teaspoon Ground Pepper
1 Teaspoon Garlic Powder
3/4 Teaspoon Salt
1/2 Teaspoon Dill Weed
Combine all ingredients into a airtight glass jar.  Store in a cool  dry pantry for up to 1 year.

Instructions

* To make Ranch Dip
Combine 1 Cup Sour Cream, 1/4 cup mayonnaise with 1-2 Tablespoons of pre-made ranch mix. Refrigerate for at least 2 hours prior to serving.
For Salad Dressing
Combine 1 cup milk with 1/2 cup sour cream and 1/4 cup mayonnaise. Refrigerate for at least 2 hours prior to serving.
Since I have a serious addiction to this delicious dip, I like to triple the recipe and make up a huge batch.  This will last me for almost the year.
I like to buy my spices in bulk.  Not only are they cheaper but having a larger quantity allows me to make up several batches of homemade mixes and fill my pantry all year round.  Preferably I would dehydrate my own homegrown herbs but it seems that the first frost always sneaks up on me and unfortunately I tend to loose several of them.

Check out more homesteading posts from Livin Lovin Farmin