Move over Bisquick™, there is a new quick mix in town.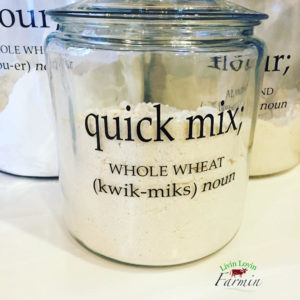 Around the homestead, I am the main cook. However, there are a few dishes that my husband has mastered, pancakes are one of them.  During the cold months, when farming is slow, daddy steps up to the plate, or stove, technically and makes the little's pancakes.  They beg him for pancakes or "sugar pancakes" as our 4 year old calls them.  Our teenager will actually get out of bed willingly if he knows there is a stack of warm pancakes on the table. And mommy can quietly drink her coffee in bed in peace..ok thats a dream but you get my point.
What I love about this mix is the versatility.  From pancakes to waffles, scones and biscuits, this quick mix is hands down a winner! Using six common ingrediants that you probably already have in your pantry.  No need to buy any separate mixes.
Ingredients
6 Cups all purpose flour or 1/2 whole wheat/1/2 white
3 1/2 Tablespoons Baking Powder
1 Tablespoon Salt
1 Cup Powdered Milk
1/4 cup Organic Sugar
1 Cup Solid Coconut Oil or Lard
Instructions
In a blender combine all ingredients minus 2 cups of flour. Blend just until the coconut oil is thoroughly cut in.
Pour into large mixing bowl. Add remaining 2 cups of flour and combine thoroughly.
Store in a airtight container.
You can use a pastry blender or two forks to combine coconut oil into the dry ingredients if you don't have a blender, however, I prefer to use a blender a combine the ingredient because its super quick and it does a perfect job at thoroughly blending.
For pancakes
Combine 2 cups quick mix with 1 – 1 1/3 cup water or until desired constancy is achieved.  I personally like fluffy pancakes, so I add less water to mine.  My kiddos like silver dollar pancakes, so we add more water to theirs.  * If you want super fluffy pancakes, beat an egg white until stiff peaks are achieved and carefully fold into the wet mix.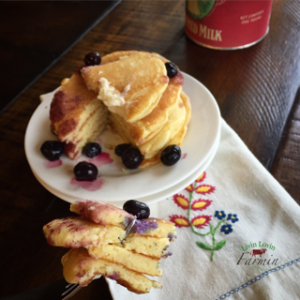 Waffles
Preheat waffle maker, spray with coconut oil. Combine 2 cups quick mix and 1 eggs with 1 3/4 -2 cups milk, combine until the batter is thin but still a bit lumpy.  For fluffy waffles, see fluffy pancake trick listed about.
Biscuits
Preheat oven to 450 degrees. In a medium glass mixing bowl, combine 2 cups quick mix and 1/2 cup of milk.  Mix until just sticky.  Drop spoonful sized biscuits onto a greased baking sheet.  Bake for 8-10 minutes.
* For cheddar herb biscuits, add in 1/2 cup shredded cheddar and 1 teaspoon Italian seasoning to the mix when adding the milk.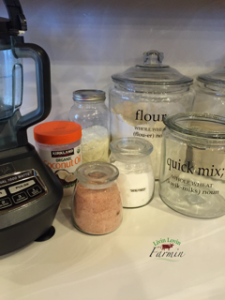 Scones
Preheat oven to 425. Line a baking sheet with parchment paper. Combine 2 cups quick mix and 1.5 Tablespoons sugar in a medium mixing bowl.  Making a well, add 2 beaten eggs, 1 tablespoon vanilla and 1/2 cup fresh cream. Mix until a dough is formed.  On a lightly floured surface, form dough into a round.  Pat flat, about 1 inch thick.  Using a long knife, cut into 8 pieces. Lay out wedges on the baking sheet, leaving a inch between each scone. Brush with melted butter and sprinkle with sugar. Bake 12-15 minutes.  **feel free to add dried fruit and berries to the dough. 1/2 cup dried fruit and zest of 1 lemon will add fresh kick.


For more homemade homestead, check out these top posts.
     Livin Lovin Farmin is a participant in the Amazon Services LLC Associates Program, an affiliate advertising program designed to provide a means for sites to earn advertising fees by advertising and linking to Amazon.com.