When I was just a short little pea shooter, my dad would drive me around our small country town and quiz me on what crops were growing in the local farmers fields.  By the age of 6, I could correctly name them all, with an extra bonus for naming the young green ones.  Lentil fields were always my favorite.  Maybe it was their short bushy beauty or the fact that Dad and I had to drive an extra hour to be able to find any.   We would load up in his perfectly detailed, Kelly green, 1977 Chevy pickup, that he only drove on "special occasions."  I always sat in the middle and he always let me turn the key.  I was daddy's little girl for sure.  He molded my love for the outdoors, for swaying wheat fields and for local farmers.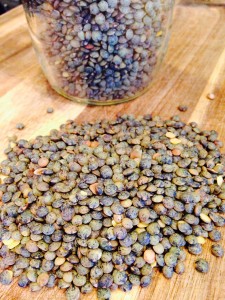 To this day, I still quiz myself on whats growing in the fields around me, which I admit, is kind of cheating,  consider my husband planted the majority of them.  Our youngest son (3)  can correctly identify what crop is growing, in what field.   Its a proud moment for both my husband and I.  It reminds me of my dad, that bond we had and the feisty little tomboy he created in me.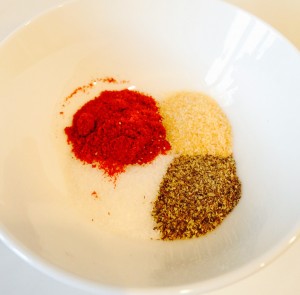 When  the weather starts turning cold and that little tomboy inside starts missing her dad, lentil soup is on the menu.  I can't help but smile while cooking it.  Who knew lentils could be so emotional?
Besides the memories, the magic with lentils is, unlike most legumes, you don't need to pre-soak them and their small oval shape will absorb whatever flavor you pair them with making them perfect for soup, salads or even in place of meat.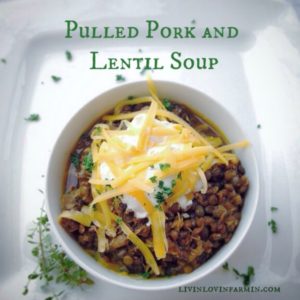 Pulled Pork and Lentil Soup
Ingredients
½ Cup diced celery
1 medium onion, diced
2 cloves garlic, mashed and chopped
¼ teaspoon pepper
2 large carrots, grated
3 tablespoons bacon fat
*
8 Cups Pork Stock
2½ cup Lentils
1 bay leaf
1½ pound pulled pork
¼ salt
¼ pepper
¼ garlic powder
¼ smoked paprika
Instructions
In a cast iron pot, over medium heat, saute celery, onion, carrots & pepper in the bacon fat. Once the onion becomes translucent, add the garlic.
When the celery and carrots become soft, add in the remainder of the ingredients, cover and allow soup to simmer and stir frequently for 2 hours or until the lentil become soft and the soup has thickened. I prefer mine a bit al dente, as they will continue to soften, especially with any reheating.
 TIP..  Pop a 7-8 lb  pork roast in the crock pot  with some cumin, brown sugar, pepper, paprika, a couple garlic cloves and 2 cups of water.   This is will give a deliciously seasoned roast with extra stock/broth.   Shred it and separate the meat into 3 freezer bags.  This makes for an easy way to grab and prepare a meal for enchiladas, soup or even pulled pork sandwiches.  Make sure to freeze all the broth also, that's gold!

Want more ways to use lentils? Check out these excellent posts.

Wild Nettle & Lentil veggie Burgers by Little Mountain Haven

For more good eats from livinlovinfarmin check out these post..