My refrigerator is on vegy overload, thanks to my awesome organic drop box from FullCircle.com.  (love them!)  So today in hopes to prepare a hardy soup and make room in my fridge, I threw this together and it was flippin delish!!  The potatoes naturally thicken the soup without having to add any flour.  It also made enough to serve for dinner and lunch for my family of 5 as well as, individually freezing 4 containers for my husbands lunches.  Win Win Win!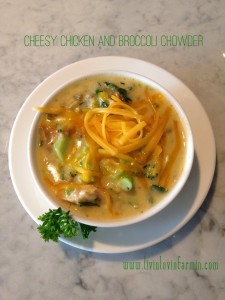 Cheesy Chicken and Broccoli Chowder
Prep Time: 30 minutes
Cook Time: 1 hour, 15 minutes
Total Time: 1 hour, 45 minutes
This is a fantastically hardy soup that freezes and reheats perfectly. Try freezing individual portions for an easy on the go lunch.
Ingredients
2 cloves garlic, minced
1 small onion, diced
1 celery bunch, diced, including the leaves
3 tablespoons butter or bacon fat
1 tablespoon Italian seasoning
1 tablespoon pink Himalayan salt
2 Teaspoons pepper
3 potatoes, pealed, chopped into 1 inch chunks
1 de-boned roasted chicken,about 2 pounds of meat, chopped
3 heads of broccoli, chopped
1 cup finely chopped kale
2-2 1/2 cups heavy cream
4 cups grated cheddar
additional salt and pepper to taste
Instructions
In a large pot of water boil potatoes until they split easily with a fork. Drain and discard all but enough water to barely cover the potatoes, set potatoes aside.
In a cast iron pot, saute fat, onion, celery, garlic and spices (Italian seasoning, salt & pepper) until onions are translucent and aromatic. (about 5-8 minutes)
Add in chopped chicken, broccoli pieces and potatoes with remaining starch water, stirring until combined. Slowly pour in and cream and grated cheddar cheese.
Over low heat, allow chowder to thicken for 1 hour, stirring occasionally to avoid burning the bottom.
salt and pepper to taste.
Alternatively for a dairy free recipe you can substitute the cream for chicken stock and the cheddar for 1/2 cup nutritional yeast.
Affiliate Links