Carrot and Ginger Soup
Brrrrrr is it cold out there! With early winter comes carrot harvest. Did you know that carrots are sweeter after the first frost? True story y'all!  Every year, I plant a brilliantly colored crop of carrots from none other but Bakers Creek Heirloom Seeds.  I have been ordering from them for what feels like forever and I have yet to have a crop fail me.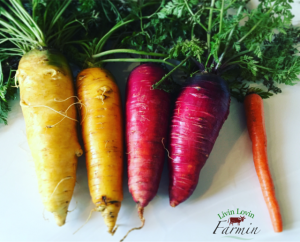 On these extremely cold days I can't help but desire a warm cup of soup for dinner next to a blaring wood fire. Here's an extremely simple soup that just about anyone can make- no skill required 😉 .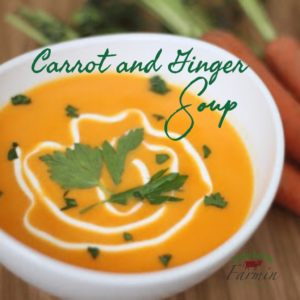 Not only is this soup tasty, but it's full of ingredients that keep your immune system kicking all winter long.
Bone Broth is rich in minerals that support our immune system and contains healing compounds such as collagen, glutamine, glycine and proline.  These minerals are easily absorbed into our body and can inhibit infections caused by colds and the flu viruses.  I save my bones throughout the year and then make up a giant stock pot full and can it up for a quick soup, such as this one.

Ginger is a powerful root vegetable. It has many benefits including being full of antiviral compounds that help not only soothe the symptoms of the flu and common cold but also prevent them from happening!
Coconut Oil has been gaining in popularity and for good reasons. It is made up made up of healthy fats which contain anti-fungal, antibacterial and antiviral compounds to boost the immune system.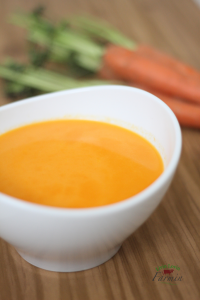 Carrot and Ginger Soup
Ingredients
6 c homemade bone broth
2 lbs (approx. 10) carrots, peeled and sliced
2 medium onions, peeled and chopped
3 T of coconut oil
4 tsp. ginger, freshly grated
1 garlic clove, finely chopped
1 c heavy cream
1 tsp. sea salt
1 tsp. black pepper
fresh parsley or dill for garnish
sour cream
Instructions
In a 6-quart pan melt coconut oil. Add onions and cook on medium heat for 8-10
minutes or until the onions are soft. Stir occasionally.
Add broth, carrots, garlic and ginger. Cover and bring to a boil for 2 minutes.
Reduce heat and allow to simmer until carrots are soft.
Remove from heat and allow to cool for 15 minutes. Pour mixture into a
blender/food processor. Depending on the size of your blender you may have to
do this in multiple batches. Blend until smooth.
Pour your soup back into your pan on medium heat. Add heavy cream, sea salt
and pepper. Heat until preferred serving temperature.
Serve and top with a touch of sour cream and garnish with fresh parsley sprigs or
dill leaves.
In order for me to continue blogging I often post links to affiliated sites. When you purchase an item though my link, at no extra cost to you, I receive a small commission, which helps continue to fund this site. THANK YOU