Canning Garlic Dill Pickles
Dill Pickles are a staple in our home!  We can NOT live without them.
*This post contains affiliate links, meaning I may make a small commission off any purchase you make, at no additional cost to you.
I swear each year I alter my dill pickle recipe switching between white vinegar and Apple cider vinegar, either can be used as long as your acidity is 5% or above.  I've found that the ACV gives the pickles a sweeter taste.  But with all my delicious bread and butter pickles, I think this year I just want plain garlic dill pickles!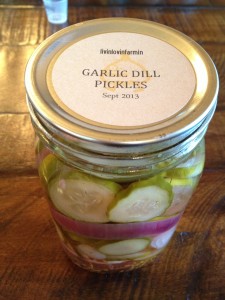 Canning Dill pickles is super easy and a great starter for first time canners.  If you are wanting to break into the world of preserving foods, pickles is your gateway.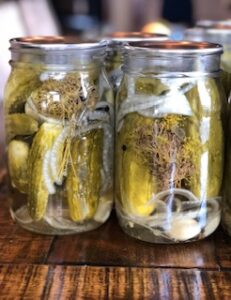 Garlic Dill Pickles
Garlic Dill Pickles Canning Recipe
Ingredients
20 lbs. pickling cucumbers – sliced, speared or whole
3 pounds onions (I used red because their purdy)
10 c. white vinegar
22 c. water
1⅓ c. pickling salt
3 cloves garlic, peeled and halved per jar
1 sprigs fresh dill
pinch of dill weed per jar
3 peppercorns per jar
Instructions
Layer prepped cucumber and onions in a large bowl and cover with salt. Top with ice cubes. Cover bowl and let rest in the fridge for 2 hours. Drain and rinse well in a colander.
) 1.) Prepare boiling water bath (BWB) canner, sanitize and heat the jars and place lids into a steaming pot of water to soften the seal. Assemble and sanitize all utensils.
) Combine vinegar, water and pickling salt. Bring to a boil.
) In each hot clean jar, add 1 sprig of fresh dill and 3 garlic cloves. Fill snuggly with cucumbers and onions. Ladle in hot vinegar mixture, leaving ½ inch headspace, release air bubbles, wipe rim and place on lids and rings. Boil water bath for 10 minutes. Turn off heat, remove lid and allow to sit for 5 additional minutes. Place sealed jars on a heat proof surface and let sit for 24 hours. Check seals and store in a cool dark place for up to 1 year. Allow 2 weeks for the pickles to marinate before opening.
Makes about 15 quarts
These Dill pickles are both crunchy and delicious.  We use them in everything from eating plain to deviled eggs, burgers and tuna/egg salads.  A must have in the pantry! For Tip on how to keep pickles crisp, check out Ann's post HERE
For more preserving posts, checkout these great posts