Homemade Buffalo Bleu Meatballs
Homemade meatballs are a staple in our home. Beit made from beef, pork or elk, we eat a lot of them.  My favorite thing is to cook and freeze several dozen of theses bad boys at a time and then pop them in oven or crock pot for a quick dish.  For great texture and flavor, try mixing two different meat varieties together.
This post contains affiliate links.  By purchasing through these links, I may make a small commision, at no additional cost to you.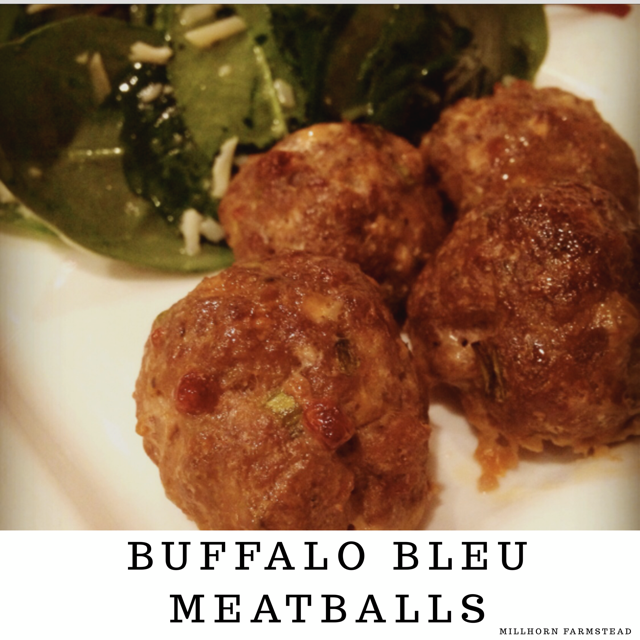 Buffalo Blue Meatballs
3 pounds ground meat.  Elk, venison or beef
Two green onions, chopped
1/4 cup finely chopped onion
3 garlic cloves, minced
One free range egg
3 tablespoons franks hot sauce
3 teaspoons smoked Paprika
1/2 teaspoon cayenne pepper
1 tablespoon dried parsley
1 teaspoon oregano
1 teaspoon black pepper
1/2 teaspoon celery seed
1/2 teaspoon sea salt
1/2 cup crumbled bleu cheese
Preheat oven to 375.
In a large mixing bowl combine all your ingredients except the bleu cheese. Using your hands combine the mixture thoroughly, then fold in the blue cheese. Stir just to combine. Roll your meatballs and place on a foil lined baking sheet.
Bake at 375° for approximately 35 minutes.
I like to add two different meat varieties, elk and pork sausage are delish together.
These meatballs freeze exceptionally well.  Cook as instructed above, allow to cool and then in a airtight container.
https://millhornfarmstead.com/farm-style-coleslaw/

*Try em with my homemade Paleo Ketchup recipe!*

** Unless otherwise posted, all recipes, notes and photographs have been created by me and are property of livinlovinfarmin.com.  Please do copy them without proper acknowledgement of the original owner. You are welcome to share a photo and/or link to the recipe from this site, livinlovinfarmin.com, however, re-publishing the recipe in its entirety is strictly forbidden without proper acknowledgement. Simple substitutions do not make it an original recipe, so please refrain from adapting the recipes without properly linking back to the original recipe. **