Description
The farmstead is pleased to once again be raising meat chickens for the 2022 season.   This year we are offering both, Cornish Cross and Freedom rangers.
Cornish cross are a heavy bird with succulent white meat.  The Cornish is a mixed breed of a White Cornish rooster and a Plymouth White Rock hen.  Because Cornish's grow quickly they stay moist and tender.
For those looking for a more heritage-type meat bird, we are also offering the Freedom Ranger.  Freedom Rangers are a red plumage, slower growth bird.   Freedom rangers are excellent foragers and do well out on pasture.  Because of their foraging abilities, Freedom rangers are known for their full flavored meat.  SOLD OUT
*SOY FREE   *CORN FREE  *GMO FREE   *CAGE FREE   *STEROID AND ANTIBIOTIC FREE
Meat chickens are sold by the pound at $4.50lb.  The chickens will weigh between 3.5 & 5lb.  I have found that most families prefer a 5lb chicken, so they can make more than 1 meal and then boil down the carcass to make a nutrient dense bone broth.  The average family will eat two-four chickens per month.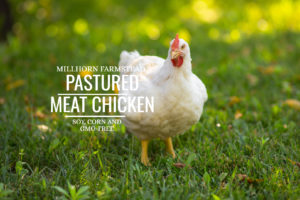 A $10.00 deposit is required PER CHICKEN.  Chickens must be picked up at the farm or during a scheduled milk delivery in CDA. Chickens will be processed in batches throughout the summer, (July, August and September.)  If you have a preference on which month, please add a note to your order or email me at katie@millhornfarms.com.   All processed chickens come weighed and shrink wrapped.  Chickens may be frozen upon pickup. 
Now taking reservations for June 2022. Orders will be processed in the order of which they were received. If you would like a specific month or multiple processing dates, please specify in the notes section of you order. 
FARMSTEAD PASTURED CHICKENS ARE LIMITED SUPPLY.  RESERVE YOURS TODAY.