Every year my kiddos make a special gift for each kid in their class for their school Christmas party. This year they've elected to make fruit snacks.  And with only 3 ingredients, this year's classmate gift couldn't be easier.  Made with beneficial grass-fed gelatin, berries out of the garden and local raw honey, this homemade treat is a win win on the mommy score card!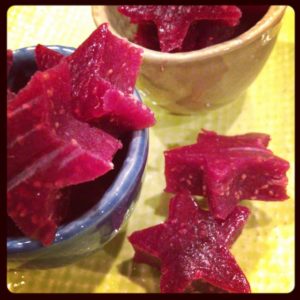 What you need;
4 cups thawed berries
3 Tablespoons grass-fed gelatin
1/4  cup honey
In a sauce pan, heat your berries (I used raspberries and 1/2 a dozen strawberries) over medium a burner until thoroughly heated, stirring frequently to prevent any scorching.  Once the berries have heated all the way through and melted down, carefully pour them into a blender, blend just until smooth.  Carefully return the berries to to the saucepan and  add in the honey and the gelatin, continue to heat on low-med heat combining with a wire whisk, until the gelatin is smooth and melted. Remove from the heat and carefully pour into a 9×13 glass baking dish or a parchment lined baking sheet.
Allow to cool for several hours in the refrigerator.  Once the gelatin has hardened your ready cut into shapes.   You can just squares with a knife or use a cookie cutter to cut shapes into the fruits.  This is where you launch you little helpers.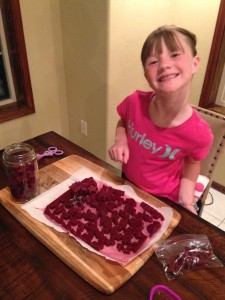 Store in an airtight container in the refrigerator until ready to package into gifts.